Return to Headlines
ODE honors Euclid Park teacher
CMSD NEWS BUREAU
5/28/2019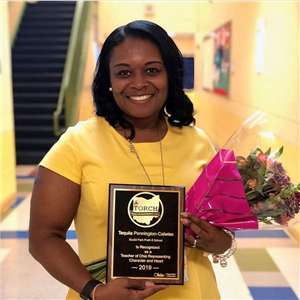 Tequila Pennington-Calwise teaches third grade at Euclid Park PreK-8 School but guides students in ways that extend well beyond the classroom.
A focus on the whole child helped her earn one of five TORCH Awards presented statewide this year by the Ohio Department of Education. TORCH stands for Teachers of Ohio Representing Character and Heart. The award is given to teachers who model equity and personal commitment to their students.
In 2006, Pennington-Calwise founded Lady Bound, a nonprofit group that mentors girls in the sixth through 12th grades and helps them develop positive self-esteem and leadership skills. She also mentors teachers at Euclid Park and serves on ODE and Cleveland State University advisory boards.
Representatives of the Department of Education surprised Pennington-Calwise with the award on May 22 during the Euclid Park Scholars Banquet. Pennington-Calwise organizes the annual gathering to honor students who are strong academically but also demonstrate good behavior, attendance and character.
Pennington-Calwise just finished her 23rd year in education, all but one of those years spent with CMSD. She was nominated by Carmon Hinton, a former Euclid Park colleague who now teaches at CMSD's Waverly School.
Pennington-Calwise said her philosophy is to show fair treatment, love and care for her students and maintain open communication with their parents. She stays in constant touch with those parents, sharing photos of classroom activities and fielding their calls and texts.
"Engagement is more than just parents coming into the classroom," she said. "I do for them what I want my child's teacher to do for me."
Lady Bound arranges for students to hear inspiring messages from business people and celebrities like actresses Quvenzhane Wallis and Grace Byers, who have visited Euclid Park. The program also has helped bring Pennington-Calwise recognition from the Cleveland Cavaliers, WKYC-TV and Alpha Kappa Alpha, the oldest Greek-lettered organization created by and for African-American women.
Pennington-Calwise said she has chosen to spend her career with CMSD because it is where she can best help children to grow and enjoy learning.
"I like that I'm needed," she said.