Return to Headlines
Planning decisions to come after summer break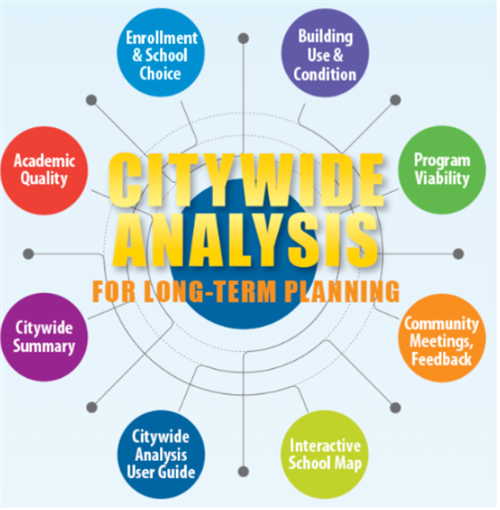 CMSD NEWS BUREAU
6/26/2019
The Board of Education will wait until after summer break to make decisions about the future of K-8 academic programs and facilities.
The extra time will allow the school board to factor in the impact of high school planning that will take place in the fall. The board, which was to vote in June or July, "should have all of the facts" before making spending decisions, Chair Anne Bingham said Tuesday during a meeting at the John Adams Campus.
In keeping with the goals of The Cleveland Plan, CMSD is seeking to ensure that every student and every neighborhood in the District has access to a quality education. The District also wants to see that more students learn in modernized buildings.
The District is trying to efficiently use limited resources, which could mean consolidating some schools and closing some buildings.
CMSD has more than 100 schools, and enrollment in a majority of the schools is below capacity. As a result, programs and resources are stretched. The challenges are not limited to the District, CEO Eric Gordon said at the board meeting Tuesday; charters are affected, too.
"This is not a CMSD problem," he said. "It's a citywide problem."
Recommendations presented to the board last month include closing four schools, relocating five schools and renovating or constructing five buildings for students from seven schools. Changes would not take effect until the 2020-21 school year.
CMSD hosted seven community meetings in April. The meetings, as well as a presentation online, provided the public with data reflecting academic quality, enrollment trends and forecasts, and building use and conditions across the city.
The District drafted recommendations based on the data and feedback gathered at that first round of meetings. Gordon then conducted six more community meetings, ending June 1.
After receiving additional input from the community, the District presented possible alternatives for recommendations that included relocating Tremont Montessori School, consolidating and relocating Dike School for the Arts and Bolton School and consolidating and relocating two K-8 schools for boys – Kenneth W. Clement and Valley View.
The board and the Bond Accountability Commission had recommended that CMSD revisit its five-year-old building plan based on current neighborhood population and enrollment patterns, changes in academic programming and rising construction costs. The commission is an independent watchdog created to monitor an ongoing modernization program that the District is paying for with state funds and a local bond issue.
For more information on school planning, go to qualityschoolsforCLEkids.org.