Return to Headlines
CMSD offers satellite enrollment centers for summer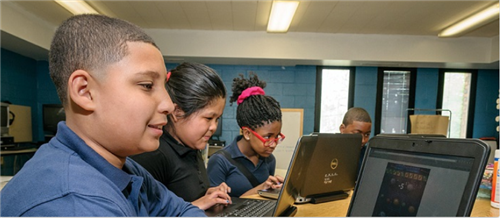 CMSD NEWS BUREAU
7/2/2019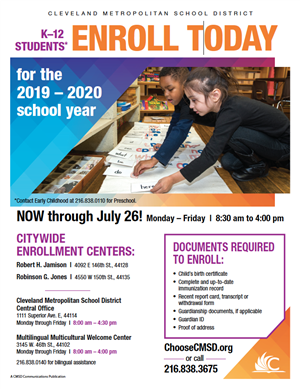 Download the flier
CMSD will operate two satellite enrollment sites this summer, starting July 8 and continuing through July 26.
Registration will be taken from 8:30 a.m. to 4 p.m. Monday through Friday at Robert H. Jamison School, 4092 E. 146th St., or Robinson G. Jones School, 4550 W. 150th St.
Families will be able to enroll students in any CMSD school, for kindergarten through 12th grade, if space is available.
Registration also will be taken from 8 a.m. to 4:30 p.m. at the District's downtown offices at 1111 Superior Ave. and 8 a.m. to 4 p.m. at Thomas Jefferson International Newcomers Academy, 3145 W. 46th St. Those centers handle enrollment year round.
Preschool enrollment is taken at East Professional Center, 1349 E. 79th St. Call 216-838-0110 for information.
Special-education students can be enrolled downtown at 1111 Superior Ave. Call 216-838-7733 for information.
Timing is critical for students who are entering ninth grade and want to be eligible for new Say Yes to Education scholarships.
Starting with this year's freshman class, students must live in the District or the city of Cleveland and be enrolled continuously in a CMSD high school from ninth grade until graduation.
Ninth-graders at CMSD's year-round high schools report July 29. The Cleveland School of Architecture and Design and the Cleveland School of Science and Medicine begin Monday, Aug. 5. Most schools return from break Aug. 12.
Parents and caregivers may choose schools for students at choosecmsd.org. Enrollment specialists will then follow up with the family.
Under CMSD's portfolio system, students can attend any school, provided that space is available and, in some cases, they meet admissions criteria.
For more information on enrollment, go to https://bit.ly/2Jj4iiO or call 216-838-3675.