Return to Headlines
9th-graders make move to year-round school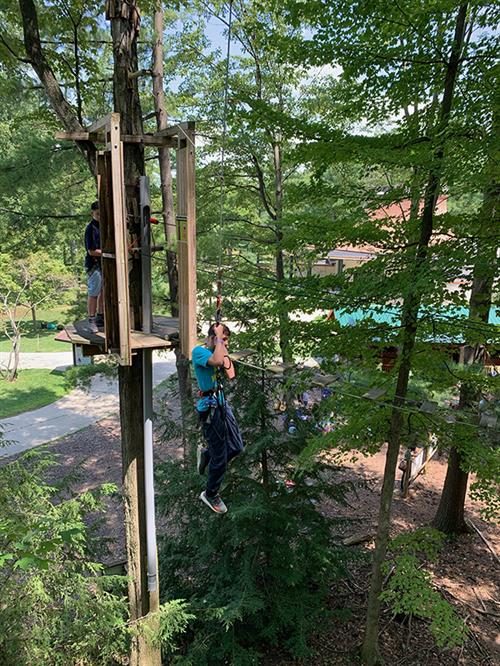 Ninth-graders from the Cleveland High School for Digital Arts begin year-round school with team-building activities at Go Ape, located in the Cleveland Metroparks Mill Creek Run Reservation in Strongsville. They ziplined and tackled a rope course.
CMSD NEWS BUREAU
7/29/2019
As families roamed the Great Lakes Science Center on summer lakefront outings Monday, some CMSD students were beginning a new school year in a wing of classrooms that houses MC²STEM High School's ninth grade.
Ninth-graders reported to MC²STEM and eight other year-round CMSD high schools, easing into a schedule that alternates 10 weeks of classes with three-week breaks. The upper grades, already accustomed to the routine, will follow Tuesday.
CMSD, which has more year-round schools than any other district in Ohio, counts it among options offered to families under The Cleveland Plan, a customized blueprint for education reform. The District's other year-round schools include the Cleveland High School for Digital Arts, Davis Aerospace & Maritime, JFK E³agle Academy, JFK PACT, John Adams College and Career Academy, Lincoln-West School of Global Studies, Lincoln-West School of Science and Health and Rhodes School of Environmental Studies.
MC²STEM sought to smooth the ninth-graders' transition, weaving the rites of orientation into fun team-building activities like a downtown scavenger hunt. Davis A&M students got acclimated by working in teams to overcome STEM challenges -- for example, some groups used simple objects like paper clips and rope to show how they might carry out tasks such as collecting and carrying water.
Digital Arts students went ziplining and tackled a rope course at Go Ape, located in the Cleveland Metroparks Millstream Run Reservation in Strongsville. Principal Jasmine Maze said the exercises were designed to help them "fly like Digital Dragons," the school's mascot.
The pros and cons of the year-round concept are sometimes debated, but MC²STEM Principal Feowyn MacKinnon believes it helps offset the effects of "summer slide."
She also has seen students' reservations fade quickly. They enjoy the bonds they develop by spending more concentrated periods of time together and are pleased when the first of their regular extended breaks arrives – in September.
If not for a hip injury, MC²STEM ninth-grader Jada might have been passing the time playing sports. Reflecting on her first day, she said said the schedule will be an adjustment, but the school's curriculum and close-knit atmosphere – 110 students per grade level – make sacrifice worthwhile. MC²STEM also has classes for 10th-graders at GE's Nela Park Campus and 11th- and 12th-graders at Cleveland State University.
"It will better prepare me for my career," said Jada, who wants to work as a biological engineer or surgeon.
Jordyn, a senior at the school, was among several older students who volunteered to help Monday. Looking back on her high school years, she said she did not like year-round study at first but was won over by the people, classes and activities at MC²STEM.
"The breaks actually get long," said Jordyn, who aspires to become a nurse or doctor specializing in pediatrics. "You want to get back."
Luis, a Davis A&M ninth-grader, said some friends questioned his choice of a year-round school. But he said Davis A&M's partnerships can help him achieve his goal of becoming a commercial pilot.
"I think it's a great thing," he said. "We still get the same amount of days off as a normal school."
Davis Principal Tim Jones said spreading breaks throughout the year helps sustain focus and energy.
"We start thinking of school in 10-week chunks, and we get solid 10-week chunks," he said. "Then people get time to recharge. We don't lose steam over the summer."
MC²STEM's MacKinnon said that under the year-round calendar, school years roll over seamlessly, eliminating the need to spend class time on review. Older students can begin almost on Day 1 to outline capstone projects and start research.
"We're able to jump right in," she said. "There is really never a first day of school after ninth grade. This is it."
Have a story idea for the CMSD News Bureau? Email it to newstips@clevelandmetroschools.org.