Return to Headlines
Students get early start on job hunting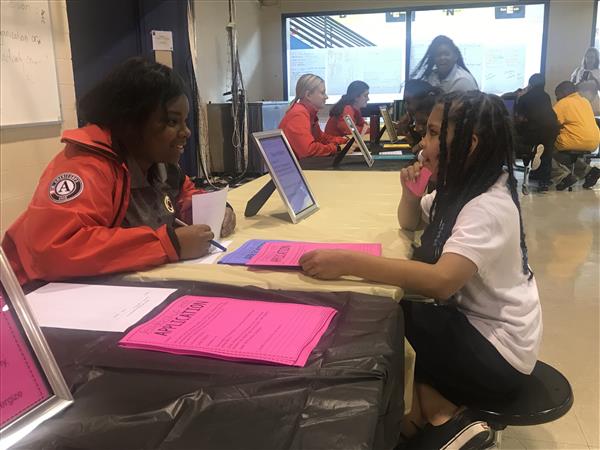 CMSD NEWS BUREAU
8/20/2019
A'kir didn't hesitate when asked to identify the job at the top of his wish list. "This one," he said, forcefully tapping his index finger three times on an application for cafeteria supervisor.
When he reaches adulthood, the third-grader aspires to work as a police officer, but for now he will have to settle for one of more than a dozen student leadership positions that were available Monday at Alfred A. Benesch School's first-ever job fair.
Benesch conducted an application process shaped by "Leader in Me," a youth development program that guides life at the Central neighborhood school. Students were required to possess good "habits," like being proactive and putting first things first; they must have the ability to display patience, speak calmly or act responsibly.
Children in the third through eighth grades filed through the cafeteria in shifts and fanned out to interview tables. They discussed duties that included serving as usher for school visitors, keeping the lunchroom clean, helping to deliver laptops to classrooms and passing out rewards in Benesch's "Scarab Store."
The successful candidates will earn 50 Scarab Bucks per pay period, enough to buy three mechanical pencils, one of the store's more popular items. But along with the compensation comes a sense of ownership in the school, Principal Erin Murphy said.
"They are making decisions," she said. "And they're really making a difference in the school."
A'kir said he is seeking the cafeteria job because "I want to help my lunch person. I want to make sure people are in their seats and talk correctly."
Students were allowed to apply for up to three jobs. Leroy, a seventh-grader, said he had not decided on a preference but was motivated to be helpful. "It's always good to help out," he said.
Interviewer Marissa Fabrizi asked students to name their strengths, make a case for being hired and detail experience that she said often included directing siblings. She said visitors to her table were eager to assume leadership roles.
"They see supervisor in the title and they get excited about being the head person," said Fabrizi, a City Year volunteer who is assigned to Benesch.
Having students take on jobs around the school helps them visualize work in action begin to walk in their parents' shoes, Assistant Principal Carlisha Bias said.
"They want to help, they want to assist, they want to be part of the team," she said. "We're growing leaders."
Have a story idea for the CMSD News Bureau? Email it to newstips@clevelandmetroschools.org.