Return to Headlines
State Superintendent DeMaria visits School of Science and Health
CMSD NEWS BUREAU
9/5/2019
Ohio's superintendent of public instruction,
Paolo
DeMaria
,
made a stop on a back-to-school tour Thursday at the Lincoln-West School of Science and Health, located at the MetroHealth System main campus.
CMSD CEO Eric Gordon, MetroHealth leadership and others accompanied DeMaria as he walked the halls of the hospital to observe students receiving hands-on lessons in the medical field.
MetroHealth President and CEO Akram Boutros gave DeMaria a history lesson on how the school started more than five years ago. He said he and Gordon talked about giving students exposure to the numerous careers inside the hospital.
"Health systems the size of MetroHealth are the size of a small city." said Boutros. "We have everything from master craftsmen to accountants to lawyers. There are doctors, nurses, human resources, government relations, political science. Anyone you would find in a city, you would find here. We said we don't care if they choose health care or don't choose healthcare, we are just going to expose the students to all of those things and ask our staff to partner with them and care about them."
Lincoln-West Science and Health graduated its first class this year with 20 students. The school currently has more than 300 students enrolled in the program.
Principal Michelle Kirkwood Hughes said the students come from nine different countries, and 42 percent are English language learners. She added that many could be classified as at-risk students if they attended other schools, but they are thriving at Lincoln-West Science and Health.
DeMaria spoke with alumni and currents students who shared what they like about the school.
Michael, who is in the 11th grade, said he was failing classes at his previous school. When he arrived at Lincoln-West, he immediately felt welcome and his grades improved.
"My math teacher was real stern about how he taught his lesson, but at the same time we learned something," he said. "Not many kids feel that when they come to school."
DeMaria said he was impressed with the staff and students at Lincoln-West and believes this type of school could be modeled throughout the state and in other industries.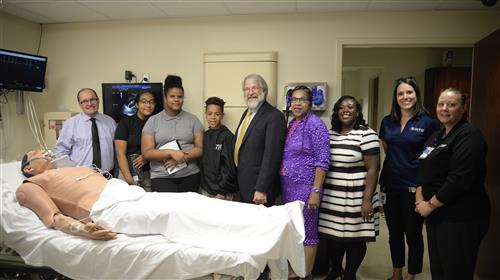 "I think businesses are also getting smarter about creating those relationships with high schools and education systems in order to help students become aware about the employment need in that industry," he said.
Have a story idea for the CMSD News Bureau? Email it to newstips@clevelandmetroschools.org.