Return to Headlines
Say Yes ranks as top CMSD story for 2019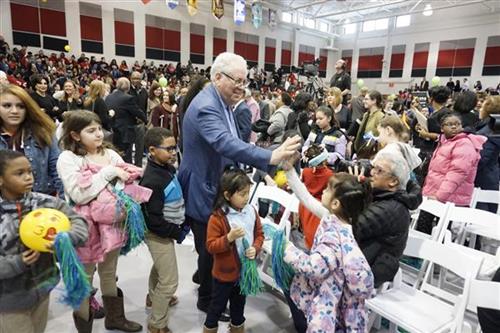 Philanthropist and Say Yes to Education founder George Weiss mingles with the crowd at the John Marshall Campus after announcing that Cleveland had been named the nation's fourth community chapter of Say Yes.
CMSD NEWS BUREAU
12/30/2019
The first big story of 2019 -- the arrival of Say Yes to Education in Cleveland -- was also the biggest story of the year.
But while Say Yes grabbed headlines from start to finish, CMSD had other moments in the spotlight, especially when it came to state and national report cards. The District also set standards for others, inspiring plans to help students nationwide control their emotions and schools in Ohio improve attendance.
Here are the CMSD News Bureau's Top 10 stories of the year:
The list could have been longer, or other stories could have arguably muscled their way into the Top 10. For example, seven schools -- the largest number yet ---received state Momentum Awards for academic growth that exceeded expectations. Shoes and Clothes for Kids and school-wear company French Toast launched a three-year pilot program that will provide uniforms and supplies to all K-3 classrooms in five schools in an attempt to improve attendance and reading scores. The Joseph M. Gallagher School chess team won a state championship. Only eight schools started classes with new principals, a testament to District efforts to develop and support school leaders.
Which stories will stand out in the new year? Follow our ever changing content at clevelandmetroschools.org/news and form your own opinions.
Have a story idea for the CMSD News Bureau? Email suggestions to newstips@clevelandmetroschools.org.