Return to Headlines
Eighth graders earn college credit through robotics class (VIDEO)
CMSD NEWS BUREAU
1/14/2020
At the beginning of the school year, a select few Nathan Hale eighth graders opened bins, and that opened new opportunities like building and coding robots.
Closing the Achievement Gap (CTAG) Linkage Coordinator Brian Simmons says he wanted to start a robotics program at Nathan Hale School after some of the students shared with him their dreams for the future.
"We had to find a way for them to achieve that goal," said Simmons.
He contacted Tri-C's Youth Technology Academy (YTA), a STEM focused high school program designed to train students for the technical workforce. The program is in 14 CMSD high schools, but Nathan Hale is the first K-8 school.
Two days a week, during their lunch time the about 10 students meet with Lisa Suarez, a YTA instructor, and other members her team in a Nathan Hale science classroom and learn the basics of coding a robot. But first the students had to build the robot.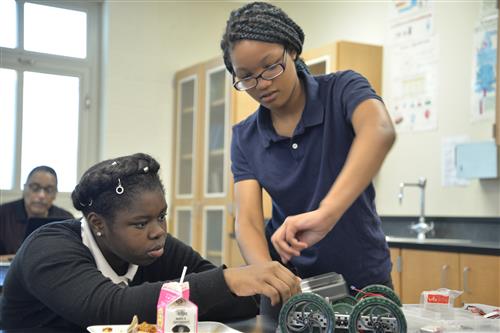 "We tell them all the time the robots fall apart. You know, things break," said Suarez. "We always tell them, you built it so you can fix it. A lot of kids have never built anything like this."
Eighth grader Ta'Niyah says knowing your math is key to being successful at coding the robot.
"It is not really hard if you know the math," she said.
In October, with part of the robot put together, the students started programing their robots to go in a circle. There was a lot of trial and error before the robot started spinning.
"It's really challenging, 'cause if you miss one step the robot won't go at all, or it might mess up your entire program," said Aszzam, a Nathan Hale eighth grader.
Suarez reassured the students that programming a robot is not easy and told them not to quit.
"You just keep trying," Suarez said. "So, perseverance is a big deal."
The students have persevered and enjoyed watching their creations come to life.
"I enjoy it," said Miracle, another student. "It's fun to code robots and make it do certain things. It can get frustrating. The math can get frustrating. Sometimes you have to to do the whole thing over if something goes wrong."
But the students didn't give up. Simmons says that while learning to code is the main goal, the program is also intended to help the students improve their math scores and attendance. He adds that the program is also helping to change the overall culture of the school. This pilot robotics program at Nathan Hale, a STEM school, is thanks to the District's Closing the Achievement Gap program, which is designed to help at-risk students thrive academically.
The program gives the kids an opportunity to do something special," said Simmons. "These eighth graders are accumulating college credits, which will set them aside from their peers when it's time for them to apply for high schools. And it exposes them to technology and coding language that will help them grow."
In December, the students took their midterm by programming the robots to go through a maze while using a remote. It was easier said than done.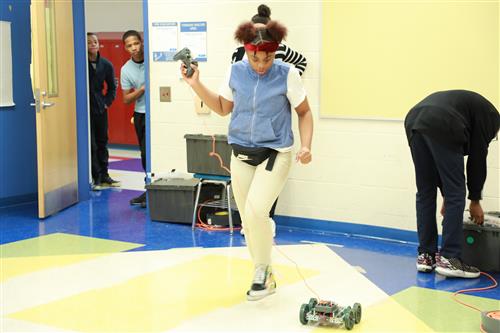 "I was getting irritated because my robot kept messing up. I couldn't get it right at all," Azzam said.
But Azzam says he loves the successes and failures of this class.
""he best part is l am expanding my education to something new," he said. "It's fun. I like to see the robot and when it works, then I'm happy, but if it don't, I'm still a cool with in it because I'm doing something other people is not."
Azzam and his classmates passed the test. Simmons is impressed with their progress.
"I'm very proud of the students," Simmons said. "These students allowed themselves to be challenged. The students allowed themselves to be critized. And the students took the criticism and applied to the project so they could reach their goals. And that is pretty much what you have to do in life."