Return to Headlines
Caring security officer is Operations' Employee of the Year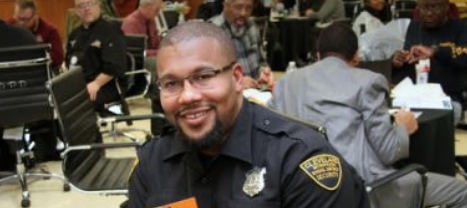 CMSD NEWS BUREAU
2/5/2020
Brandon McCruel is more than just a security officer at A.J. Rickoff School.
Every year, McCruel leads a "Socktober Drive" so he can buy socks for kids, and he hosts a holiday gift party. Now, he is raising money to purchase a washer and dryer so Rickoff can join other District schools that clean uniforms for families who lack those appliances.
That record of going above and beyond is why the CMSD Operations Division has named McCruel its Employee of the Year, and the competition was strong.
McCruel, a graduate of John Marshall High School, says he is simply giving back in the spirit of CMSD teachers and other staff who impacted his life from early grades. They rerouted a child who was kicked out of preschool for behavior issues and kept him on the right path.
"Every day that I step foot into Rickoff or any other school, I remember the experiences that I had as a CMSD kid and the lessons I still use today in my life," he said. "My life calling is to serve young people."
McCruel also was the July Employee of the Month for Operations, which besides Safety and Security includes the departments of Capital Programs, Facilities, Inventory and Logistics, School Nutrition, Trades and Transportation.
His partner at A.J. Rickoff, officer Donesta Wilkins, received the honor for August. She was recognized for daily greeting each student by saying "You are amazing, awesome and wonderful" and for putting on an "amazing scholars brunch."
The other monthly winners in the 12th annual awards program were:
January: Justin Kobak, a relatively new transportation mechanic, for taking on responsibilities beyond his job description and exemplifying leadership and capabilities "far beyond his years."
February: Custodian Emmanuel Levi, for keeping sprawling East Tech High School in top condition and helping the Indians and Cavaliers in renovation projects at the school. NBA Commissioner Adam Silver highlighted Levi's contributions on the NBA Network.
March: Bus driver Barbara Davis, for coming to the aid of a young girl she found wandering the street barely clothed. She stayed with the girl until police could investigate and return the child to her home.
April: Chris Lyall, Inventory and Logistics, for willingness to do whatever is needed not just to get the job done, but done well.
May: Greg Williams, a sergeant in Safety and Security, for his strong advocacy of restorative justice. His work was noted for a panel discussion he led last year at a Council of the Great City Schools conference.
June: Lashon Little, a bus driver who transports students at Louisa May Alcott School, for customer service that includes making sure parents know who he is and how to reach him. He occasionally buys pizza to reward students for good behavior on the bus, and when the bus is running late, he notifies the school to hold breakfast so "his kids" can eat.
September: Danny Williams, a bus driver, for 13 years of perfect attendance. He enjoys being around students and receives praise from school staff.
October: Chef Tim Wright, for the work he puts in while overhauling school menus, training staff across the District to cook, not just reheat, and make CMSD's cafeteria network the equivalent of a great restaurant.
November and December: Security officer Arsenio Lowe and dispatcher Cheryl Safford, for assisting a woman who was choking in a car at the District's East Professional Center on the Friday before Labor Day. They alerted the Cleveland Emergency Medical Service, but Lowe cleared the woman's airway before the crew arrived.
"These 12 could have just done what their job description tells them to do, and they would get paid the same amount," Chief Operations Officer Patrick Zohn said at a luncheon for the winners at East Professional Center. "They could just confine their work to their school or duty station and that would be sufficient to comply with their job description. But these twelve have something within them that they need to share with others. That is why they are special."