Return to Headlines
Women's rugby player among those signing letters of intent (Video)
CMSD NEWS BUREAU
2/5/2020
Noellia Garcia, a John Marshall School of Civic and Business Leadership senior, was among the 19 student athletes who on Wednesday signed letters of intent to play sports at colleges.
Garcia plans to attend Notre Dame College, a Catholic liberal arts college in South Euclid, to play rugby. She was the only girl to participate in today's signing ceremony.
"I'm still trying to process it all because I didn't think I would be. here," said Garcia.
This is a momentous occasion because the rugby program started only three years ago after then sophomore Stephanie Martinez wasn't picked to join the football team. So instead she started the rugby club at John Marshall.
Rugby is a full contact sport that looks a lot like the American version of football and soccer combined. Given the physical demands of the game, it's traditionally been a male-dominated sport, but a group of students at John Marshall are changing that. The Mighty Lady Lawyers rugby club is the first of its kind in the District.
Garcia says she joined the team last year during her during junior year and has won several awards for her athletic ability. "Noellia, last spring, led the state in tries with 18 tries in overall points," said Donald Milliken, the head coach. A try is scored when the ball is grounded over the opponents' goal line in the in-goal area.
"I didn't think I would get this far, but I put my all into everything I do," said Garcia.
Her coach also commended Garcia for leadership skills on and off the field.
"She is a team captain and leads by example everywhere she goes," said Milliken. "But the most impressive part about Noellia is her character."
Milliken says Noellia works 30 hours a week, and has lived on her own since she was 18.
"She gets up at 4:30 a.m. to work out, attends school and practices, all while maintaining good grades," said Milliken.
Garcia says she loves the sport due to its aggressive nature and wants all girls to know they can be just as good their male counterparts.
Her advice to other girls is "don't give up because we are as strong and strong-minded, and we can be just as good or even better."
Garcia will start her final rugby season as a Lady Marshall Lawyer this spring.
Here is a list of the other students who sign letters of intent.
James F. Rhodes
Devonte Chambers Football Baldwin Wallace University
DeAngelo Williams Basketball Cuyahoga Community College
John Adams
Jerome Scott Wrestling Columbia University
John Marshall
Noellia Garcia Rugby Notre Dame College
Lincoln-West
Brandon Wothy Soccer Baldwin Wallace University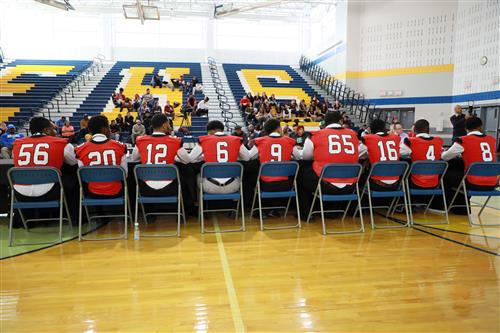 Glenville
William Anglen Football University of Colorado
Ty'Shune Bender Football Independence Community College
Tristen Bentley. Football Air Force Academy
Kel'vontay Bluford Football Marietta College
Raekwan Bryant Football Ohio Dominican University
Jalen Buffinton Football Ohio Wesleyan University
George Chambers Football Vermilion Community College
George Bullock Football Vermilion Community College
Damian Crawford Football Ohio Dominican University
John Davis III Football Vermilion Community College
Cornellius McCLain III Football Independence Community College
Daejuan Moton Football Vermilion Community College
Gamari Peterson. Football University of Akron
Jordan Young Football Marshall University