Return to Headlines
MC2STEM 10th-grade will relocate to Tri-C Metro Campus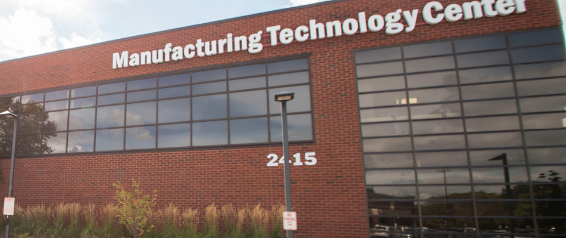 CMSD NEWS BUREAU
2/21/2020
MC² STEM High School's 10th grade program will move from GE Lighting's Nela Park facility to Cuyahoga Community College's Metro Campus this summer.
Relocating from GE to Tri-C's Manufacturing Technology Center will introduce about 100 Cleveland Metropolitan School District 10th graders per year to the feel of a college campus while providing them with easy access to Tri-C courses and programs like robotics. And they can study on a two-year college campus before transitioning to a four-year campus at Cleveland State University in their junior year.
The move also will put all three MC² STEM High School sites in central locations in or near downtown. Ninth graders are housed at the Great Lakes Science Center, while 11th- and 12th-graders are based at Cleveland State University.
Tri-C is a top choice of CMSD graduates who head on to college. Even before graduating, many students earn credit there through the High Tech Academy program or the state dual-enrollment College Credit Plus program.
"Hosting MC² STEM High School allows the college to expand its already strong relationship with CMSD," Tri-C President Alex Johnson said. "Our goal is to help these students build a solid foundation for success while opening pathways to future opportunities."
MC² STEM got its start 11 years ago at Nela Park, becoming the only high school in the country to be housed at a Fortune 500 company. The year-round high school, known for its use of technology and hands-on learning, was among the first in a line of innovative CMSD school models.
"We are grateful for not only the unique experience our scholars have had at GE but also the mentoring and other outstanding support they received from leadership and employees," District CEO Eric Gordon said. "At the same time, we are excited about moving to Tri-C and taking advantage of all the college has to offer."
GE Lighting has supported CMSD for decades and will continue to support MC² STEM through scholarships at Cleveland State University and an annual contribution to the Friends of MC² STEM. The company is also reviewing new ways for its employees to provide college prep support to MC² STEM students.