Return to Headlines
Students taste test new item for the lunch menu (Video)
CMSD NEWS BUREAU
3/31/2020
While schools are closed, CMSD is limited to distributing grand-and-go lunch and breakfast at 22 sites. But the School Nutrition Department can't wait until classes resume and crews can get back to serving up more of what students want.
School lunches have evolved to the point that the Nutrition Department wants students to taste food items before putting them on the menu.
At four schools, two K-8 and two high schools, students recently tasted a mini cheeseburger slider made by Tyson Foods. If kid approved, this item, made from ground chicken not beef, could go on the lunch menu in six to twelve months.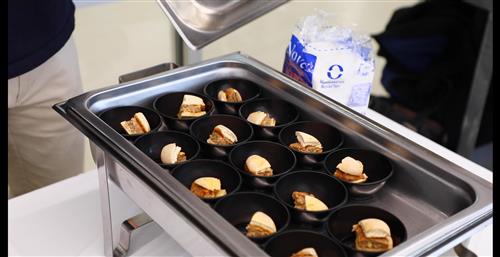 At the participating schools, students ate a bite-size portion of the sandwich that included cheese and ketchup in a small cup. The students then put that cup in a 'yes' bin or a 'no' bin.
The nutrition staff then counts the cups to see if students like the item.
"If the yes votes tally 70 percent, then we will put it on the menu," said Allison Thirion, a CMSD registered dietitian.
The District, which serves about 32,000 lunches every day, has tried to put more items on the menu that students will enjoy, including more handheld options.
"We want our students to participate in the program," said Thirion. "The best way to do that is to ask for their feedback."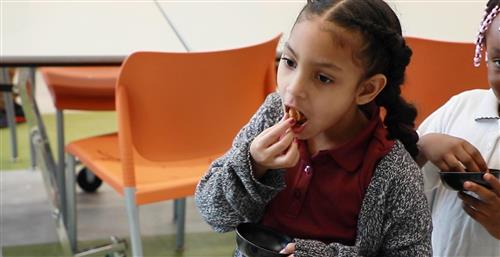 Thirion said CMSD is seeking to offer tasty food that the students will eat while at the same time making sure the food is nutritious and healthy.
She said adding new items to the menu is a multi-step process. It starts with the nutrition administration staff seeking new food items from distributors and seeing if they meet the District's price point and nutrition standards.
"Once they pass that, then we take the product to school-based staff to see if they could cook this dish," she said. "If they sign off, then we take it to the students to taste. This process could take anywhere for six to 12 months."
Thrion says getting student input is a win-win.
At John F. Kennedy High School, the students enjoyed the slider, as did scholars at Whitney M. Young PreK-8 School.
"It wasn't all that," said eighth grader Leah. "It wasn't Chik-Fil-A, but it was decent for school food."
Maykala, a second grader, compared the burger to a pancake and said the burger was delicious.