Return to Headlines
Urban school leaders seek $200 billion for coronavirus relief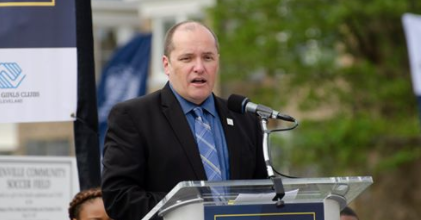 CMSD NEWS BUREAU
4/28/2020
The Council of the Great City Schools, a nationwide coalition of large urban school districts chaired by CMSD Chief Executive Officer Eric Gordon, is urging Congress to allocate more than $200 billion in new funding for local school systems in the next coronavirus-relief bill.
In a letter to Capitol Hill, the council supports an additional $175 billion in Educational Stabilization Funds. Distribution would be based on the formula for Title I, which provides financial assistance for schools and local educational agencies with high percentages of children from low-income households.
The council also is urging Congress to add $13 billion for the Individuals with Disabilities Education Act, $12 billion for Title I, $2 billion for a fund that helps schools obtain affordable broadband Internet and emergency infrastructure funds that include schools.
The closure of Ohio's schools has posed challenges for high-poverty districts like Cleveland, including Internet access. As much as 40 percent of homes had no access to high-speed Internet and many students relied on schools and libraries for access to computers.
"An overnight shift from classrooms to remote learning underscores the immediate need to address the digital divide in our nation," CEO Gordon said. "The Internet should be treated as a utility in the digital age, just as essential as electricity, heat and water to our students and families."
Gordon and 61 other big-city superintendents signed the letter, which asks Congress to help districts offset unexpected costs in providing meal services to students and transforming from school-based to home-based learning in the wake of school closures. While CMSD and other districts have been aggressive in providing distance learning, they need help ensuring that all children have access to devices and Internet connections.
According to the council, declining state and local revenues could leave local school systems facing significant shortfalls headed into next school year. Several big-city school districts are projecting revenue decreases of 15 percent to 25 percent, raising the prospect of layoffs.
The letter said that with additional federal funds, "America's public schools will be able to add summer school, expand the school day after reopening in the fall, retain and stabilize our teaching force, address the needs of our most vulnerable students, narrow the digital divide and have a fighting chance at salvaging the futures of millions of young people."