Return to Headlines
Say Yes specialists staying connected to families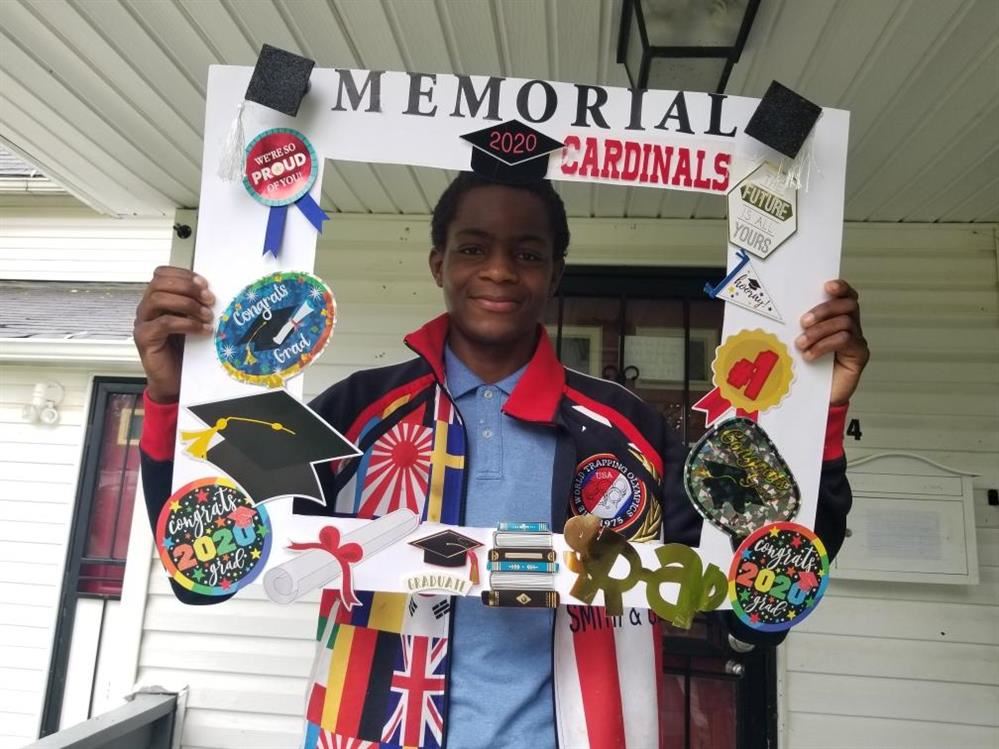 Say Yes family support specialists pitch in where needed. Cassie Klein, the specialist at Memorial School, helped deliver promotion certificates to graduating eighth graders.
CMSD NEWS BUREAU
6/22/2020
School buildings closed in March, but the demand for services that Say Yes to Education support specialists find for students and their families hasn't gone away.
If anything, the need has magnified and the job of the family support specialists is more challenging. Separated from the students, the specialists cannot immediately see signs that they need help dealing with stress or filling basic needs such as food and clothing.
The assistance complements Say Yes tuition scholarships that were introduced last year in Cleveland. The specialists, who are hired and employed by Say Yes to Education Cleveland but paid with District and county funds, help students and families connect to community services so they can stay on track and overcome obstacles to graduation.
"We can help them with things they thought they couldn't get help with," said Cassie Klein, the support specialist at Memorial School in the Collinwood neighborhood. "It's my job to identify resources so families can concentrate on education."
Many of the specialists are licensed social workers. Klein was a social worker for The Centers, an agency that provides health, family and work services.
Shauna Scott-Rose, the support specialist at New Tech East High School, previously was a social worker for Cuyahoga County Children and Family Services. She said the specialists act as a bridge between families and CFS, addressing causes before problems pile up and families become one of the agency's open cases.
Klein, Scott-Rose and 14 other specialists were each assigned to a CMSD school last year. As part of a four-year rollout, 26 more schools will receive specialists and services next year, including the first three eligible charters.
New Tech East Principal Christy Nickerson said Scott-Rose brought the school a network of resources and access to services and proved to be a critcal asset to the school community even before Ohio issued the stay-at-home order.
"Her value has been incalculable this school year as we faced many hardships," Nickerson said. "Through it all, our families and staff have been able to count on the consistent and valuable assistance she provides."
Klein and Scott-Rose said staff at their schools welcomed them and made them feel like part of the team. The specialists also built trust with families and students. Kline said she attended many school events where she passed out fliers explaining how she could help.
As part of the District's long-term planning, New Tech East will be consolidated with adjacent East Tech next school year. Scott-Rose will stay on, but New Tech East students have been worried.
"A lot of my kids are calling and asking, 'Ms. Rose, are you coming back?' " she said. "They didn't want to lose the relationship."
Surveys of students and families from the first cohort of schools found that mental health counseling was clearly a top priority for children and adults who live under the severe stress of poverty. Kids may feel anger or other emotions in response to friction at home or with their peers.
Other services range from range from finding sources of clothing or food to keeping utilities turned on to obtaining legal or financial help or to stave off eviction.
No need is too small. Scott-Rose helped a student replace a pair of broken glasses. In another case, she found an organization that provided a $30 voucher so a family could get a copy of a birth certificate.
"Whatever people need, we jump in and take care of it," Scott-Rose said.
Like the students and their families, specialists had their plans disrupted by the state-ordered closing in March. At the request of District CEO Eric Gordon, they took on extra schools and helped families who had to deal with isolation or balance taking care of their children and working essential jobs.
Before the shutdown, Klein had been poised to start a girls group at Memorial, bring in speakers to talk about bullying and peer pressure and educate students about cyber safety. Klein and the school had to cancel a year-end "field day" featuring a bounce house, games, cotton candy and popcorn.
Instead, Klein called all of the students' families to see how they were faring and used Memorial's Facebook page to post information about services such as food pantries and rental assistance. She and Assistant Principal Ronnie Neal visited the homes of eighth-graders to deliver promotion certificates – and Bundt cakes.
"Ms. Klein responds almost immediately to any requests, and she is sensitive and caring to all of our Memorial families," Principal Maria Dinkins said.
Scott-Rose has picked up food from pantries and delivered it to families. She also dropped off Chromebooks and hotspots to families who needed the equipment from CMSD for students to participate in remote learning.
No matter what the demands, Klein and Scott-Rose are happy to oblige. In their former jobs, they interacted with families at low points; as part of Say Yes, they get a different perspective.
"It's great to see a family grow and help them get over hurdles along the way," Klein said. "I plan to stay as long as I can."
"I love everything Say Yes has to offer, I love the kids," Scott-Rose said. "This is a breath of fresh air. I found the love of my life in this job."