Return to Headlines
Teacher honored for helping peers with remote learning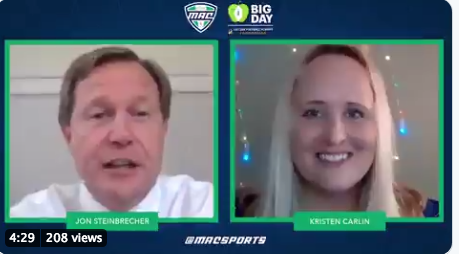 Mid-American Conference Commissioner Jon Steinbrecher, a member of the College Football Playoff Foundation board, notifies Scranton School teacher Kristen Carllin that she is among teachers across the country who are being honored for outstanding service.
CMSD NEWS BUREAU
9/14/2020
A Scranton School teacher who thrives on figuring out and using technology has won recognition for guiding her peers into remote learning instruction.
Kristen Carlin was among teachers across the country that the College Football Playoff Foundation honored Monday through its Extra Yard for Teachers program. Mid-American Conference Commissioner Jon Steinbrecher, a foundation board member, notified her of the recognition last week.
Due to the COVID-19 pandemic, CMSD has moved to remote learning for at least the first nine weeks of the school year. Carlin and a few other teachers offered to conduct virtual office hours for colleagues who had questions about technology and teaching online, even after they had undergone 2 ½ weeks of intensive training. Jacquinette Brown, CMSD's executive director of professional development, nominated Carlin for the honor.
"I felt like I was just doing what I was supposed to do by helping other teachers, said Carlin, who teaches sixth- through eighth-grade math at Scranton. "When it comes to technology, if I do not know something, I can usually figure it out. This skill is also helping my students, because I can walk parents through how to troubleshoot issues."
Carlin has been teaching for 19 years, all with CMSD. She has a master's degree from Baldwin Wallace University with an endorsement in Educational Technology and earlier in her CMSD career served three years as a District coach for math teachers. She offered to help other teachers with remote instruction even before her principal, Troy Beadling, and building union representative submitted her name to Brown.
She believes her students are benefitting from remote learning, in part because they are learning skills to use in a technology-heavy world. When asked last week if they were gaining from remote learning, most of the students in an eighth-grade class clicked on the "raise hand" function.
"With this online platform, every student across the District will get an opportunity to learn using technology," Carlin said. "That makes me excited for the future of education and for developing a more informed and technology literate group of citizens to make this world even better."
Carlin, whose husband, Michael, also teaches for the District, said she has long believed that the next step in her career will be serving as a consultant or working for a company that provides professional development for educators. She said planning her remote curriculum and helping other teachers has added to her love of education.
Along with the award, Carlin received $1,000 to spend on her classroom. Carlin, who has used Donorschoose.org to raise money for classroom technology, said the prize will be put to good use, but she has not decided on a specific purpose.