Return to Headlines
Tremont wins national award for partnerships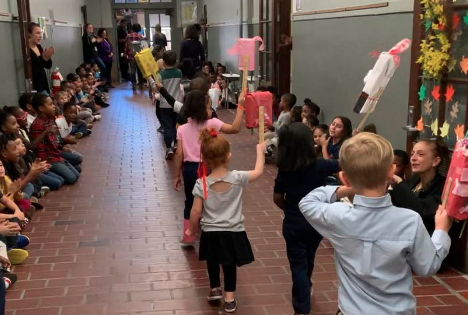 CMSD NEWS BUREAU
10/7/2020
Tremont Montessori's preschool program has won a national award for success in building strong school, family and community partnerships.
The National Network of Partnership Schools at Johns Hopkins University recognized Tremont's preschool team with a 2020 Partnership School Award. It is the fourth time that Tremont has received the honor from the network, which promotes research-based approaches to programming, but this year the team had to adapt to the COVID-19 pandemic.
A book, Promising Partner Practices, features Zoom to the Zoo, which has connected teachers, students and families to the San Diego Zoo via the online platform Zoom.
The book also showcases Balloons Over Tremont, a Thanksgiving celebration in which students made "floats" that they carried over their heads in a Macy's-style parade through the school.
Balloons Over Tremont was inspired by a picture book, "Balloons Over Broadway," about the origins of the Macy's Thanksgiving Day Parade. The Tremont parade was staged twice, once for students and a second time for parents.
Other family and community engagement events included a family game night opened to all grades. In another example that ended up sweeping the school, students made Christmas cards for children in the hospital and a preschool parents group handled the mailing.
"Tremont Montessori is conducting research-based approaches to strengthen its welcoming climate and engage parents and community partners in ways that improve student attendance, behavior, achievement, health, high school graduation rates, and other student outcomes," said Joyce L. Epstein, director of NNPS. "Even during the COVID-19 crisis and school closure, Tremont continues to communicate with families in productive ways."