Return to Headlines
Pitcher on his game mentoring eighth graders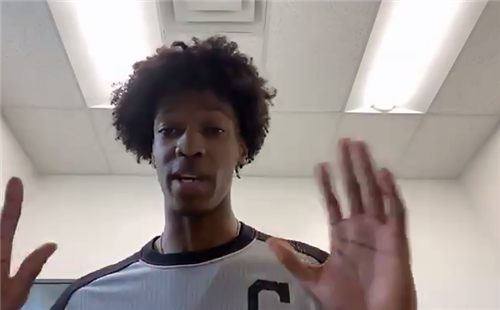 New True2U mentor Triston McKenzie meets via Zoom with eighth graders at Valley View Boys Leadership Academy.
CMSD NEWS BUREAU
1/19/2021
Other True2U mentors who are working with CMSD's eighth graders bring valuable work experience to the cause, but only one has a job that involves challenging big-league hitters with a fastball that can top 90 mph.
Cleveland Indians pitcher Triston McKenzie has joined other volunteers in True2U, a program that provides guidance for District students who are at a pivotal point in their education and path to college and career. He has been matched with Valley View Boys Leadership Academy.
Valley View Principal Terrance Mitchell predicted that the eighth graders will connect instantly with the young pitcher. And while Mitchell knows many students dream of athletic stardom, he believes in having a backup plan and so wants them to learn that the sports industry also offers careers off the field and court.
Speaking via Zoom, McKenzie introduced himself last week to teacher Erin Moses' class, which is in remote learning due to the pandemic. He engaged easily and eagerly with the students -- for example, explaining how his favorite school subjects, math and science, can remain relevant in a profession, even baseball.
"I am able to look at how my pitches spin, a bunch of analytical things," he said. "I see what works for me, what doesn't."
McKenzie, 23, quickly let the kids know that you don't gain the spotlight without sacrifice and a work ethic, characteristics that are prized in any line of work.
Answering questions from the class, he acknowledged feeling "shaking-in-my-boots nervous" on the mound and said he goes through rigorous conditioning and preparation that began in school, when hours toiling in the gym were balanced with homework.
"It's the same game I have been playing since I was young," McKenzie said. "But the competition is a lot harder, and the stuff I have to do outside the field is very hard."
True2U, launched in 2015, is a collaboration between CMSD and the Neighborhood Leadership Institute, Cleveland Foundation, Greater Cleveland Partnership and Greater Cleveland Faith Based Initiative. Dozens of volunteers are working with 2,500 eighth graders.
Mentors will meet five times this school year with the students, helping them to identify their strengths and interests, think about possible career matches and pick the high school that best fits their needs.
CMSD students are allowed to select from a variety of high school models throughout the District. McKenzie, as a youth, picked between two, opting for one that was not as good in baseball but offered a medical program that appealed to him.
"Whatever you are good at and enjoy, don't necessarily home in on that" he said. "But put it at the top of your priority list."
Prompted by McKenzie, the boys opened up about their own likes and ambitions.
"All subjects are really cool, but I am best at math and reading," Brandon said. "I would like to be an engineer."
"In my free time, I like to gain knowledge," Jeremiah said. "What I would like to be when I grow up is a famous writer."
Joining McKenzie was Megan Ganser, who holds one of those other sports jobs: coordinator of player engagement and family relations for the Indians. She told the students that one of her duties is putting together notes that broadcasters can pull from during games.
Ganser reeled off sound advice for building futures: explore the possibilities, get a second opinion from parents on which direction to take and feel confident in decisions, even those that don't work out. She also told the boys that what they do in life matters.
"The world depends on you," she said. "We need you to be the best you can be, whatever you pick. You have to go get it from there."
Moses told her students they are fortunate to have such support as they choose paths. She said that pushed by her high school, she studied business in college, but her heart was in teaching – teaching in Cleveland.