Return to Headlines
College Now seeking 850 mentors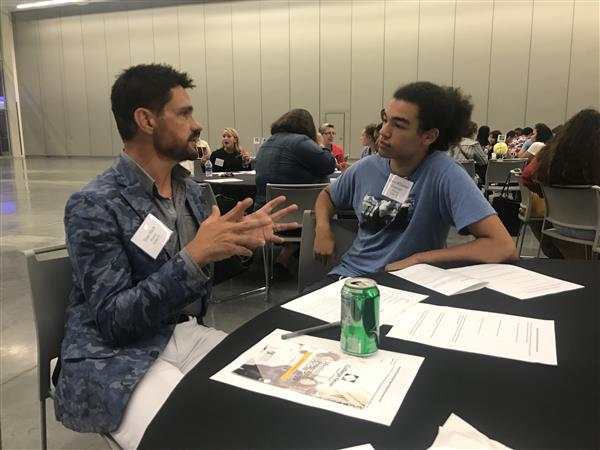 A College Now mentor meets the student he will be helping to guide. This photo was taken during introductions at the Huntington Convention Center in 2019.
CMSD NEWS BUREAU
2/23/2021
College Now Greater Cleveland is seeking 850 mentors to pair with graduating high school seniors.
WKYC Studios will spotlight the need with the Mentor Monday recruiting blitz on March 8. WKYC is hosting the promotion in partnership with College Now, CMSD, Engage! Cleveland, and Say Yes to Education Cleveland.
College Now mentors guide graduates bound for college and postsecondary career training, including recipients of the Say Yes to Education scholarships given to graduates of CMSD high schools.
Mentoring is a key component of the Say Yes Cleveland program, which began two years ago. College Now mentors frequently work with first-generation college students who need help with questions about higher education.
As part of Mentor Monday, WKYC will feature stories throughout the day on the College Now mentoring program, its successes and participants. Viewers can sign up to be mentors. For more, go to WKYC.com/MentorMonday.
Mentors are required to have a college degree, pass a background check and complete brief training.
They also make a four-year commitment, but the time put in during that period is minimal. Mentors and mentees correspond several times a month online and meet in person several times a year, which can include using Zoom, Facetime or videoconferencing through the College Now mentoring platform. Some choose to communicate more often.
Currently, more than 1,900 mentors, representing 500 companies, are working with postsecondary students.
Last year, 92 percent of College Now scholarship recipients continued into a second year of postsecondary study, compared with the national average of 74 percent. And students who work with College Now mentors have a graduation rate that is 20 percentage points higher than that of their peers nationally.
To apply to be a mentor, go to www.collegenowgc.org/become-a-mentor. Apply by April 1 to be matched with a mentee this summer.
For more information on the mentoring program, contact Jabari Dorsey at jdorsey@collegenowgc.org or 216-635-0268.