Return to Headlines
Replica of oak preserves part of Jesse Owens' legacy (Photo gallery)
Photos of oak at the Rhodes campus and plaque coutesy of 3News.
CMSD NEWS BUREAU
4/30/2021
An English oak that legendary Olympian Jesse Owens donated to Rhodes High School more than 80 years ago is near the end of its life span, but experts have cultivated clones that will keep the historic tree's DNA going for generations.
A planting ceremony for one of the clones was held Friday -- Arbor Day -- in Rockefeller Park. CMSD joined the ceremony with representatives of Holden Forests and Gardens, the Old Brooklyn Community Development Corp. and University Circle Inc., which serves a host of world-class destinations, including the park.
The Rhodes oak was the last known survivor of four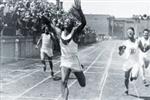 that Owens, an East Tech graduate who trained at Rhodes, brought back from the 1936 Olympics in Berlin. Owens was presented with one for each of the gold medals he won in track and field events, famously showing up Adolf Hitler and his doctrine of white supremacy.
"CMSD has been privileged to host this part of Jesse Owens' rich legacy for all these years," school district CEO Eric Gordon said. "We are excited that the tree's descendants will live on and be shared with people from Cleveland and beyond."
Jeff Verespej, executive director of the nonprofit Old Brooklyn Community Development Corp., became caught up in the preservation quest three years ago when he asked Holden Arboretum to help encourage good tree stewardship in the neighborhood. He said two experts came to visit, and said when he informed them that Old Brooklyn was home to an Owens oak, "their eyes lit up."
"We went to look at it, and one of them told me, 'It's in bad shape. We better do something about it,' " Verespej said. "Hearing it from him in such a dire way was empowering."
The arboretum turned to Klyn Nursery in Lake County for help because of its vast experience in grafting.
The nursery grafts shoots, or scions, of trees to saplings by cutting a wedge near the bottom of the young trees, inserting a shoot, binding the union and sealing it with wax. If successful, the result is a new tree that is identical in its genetic composition to the original but with a healthy replacement rootstock.
The process has produced at least a dozen additional replicas of the oak. Discussions of where to plant some of the oaks are under way.
Holden Forests and Gardens, parent of the arboretum and the Cleveland Botanical Garden, is seeking to take the nonprofit's work beyond its boundaries. The Owens oak project fit that mission well, President and CEO Jill Koski said.
"We played a small role in in preserving some of his legacy and the rich story he shared with us," said Koski, who also is involved in Cleveland's efforts to restore its tree canopy and live up to its nickname, The Forest City. "It's a great honor."
Participants in Friday's ceremony dropped shovelfuls of mulch at the base of the oak, which was planted earlier on a spot north of the park's lagoon.
Besides CEO Gordon, CMSD was represented at the ceremony by delegations from Michael R. White and Willson schools, which sit on opposite sides of the park. Willson sent hearing-impaired students who had just finished reading a book about Owens from the biography series titled "Little People, Big Dreams."
East Tech and Rhodes, now home to the Rhodes College and Career Academy and Rhodes School of Environmental Studies, each sent two members of their track teams.
Athletes running on East Tech's indoor track pass a mural of Owens. Rhodes track coaches remind their teams of Owens' history and the symbols of it that remain – both the tree and the track.
"They know what that track represents when they step on it," Assistant Coach Julian Jackson said.
Rhodes senior Darius Campbell considers the tree to be a "very important monument" and said it has a significant impact.
"It motivates the runners," he said. "It makes them want to be great, too."
Despite Owens' triumphant performance in Berlin, the African-American athlete still had to deal with rejection and other challenges in his home country.
There was no invitation to the White House. A celebration was held in his honor at the Waldorf-Astoria in New York, but he had to take the freight elevator to get there. Initially, he struggled through tough times.
Verespej hopes that Owens' perseverance will take on added relevance amid renewed calls for racial and social justice in America.
The Rockefeller Park planting site is fitting.
The location borders the Harrison Dillard Bikeway, named for a fellow East Tech graduate and Black Olympic great who was inspired by Owens. Dillard was a longtime business manager for CMSD.
Across the street sit tennis courts that are home to the Forest City Tennis Club, the oldest Black tennis club in the nation. The courts are named for Jean Murrell Capers, who was the first Black woman elected to Cleveland City Council and later served as an assistant Ohio attorney general and Cleveland Municipal Court judge. She also was a Cleveland schools teacher.
.