Return to Headlines
Say Yes scholars achieving their dreams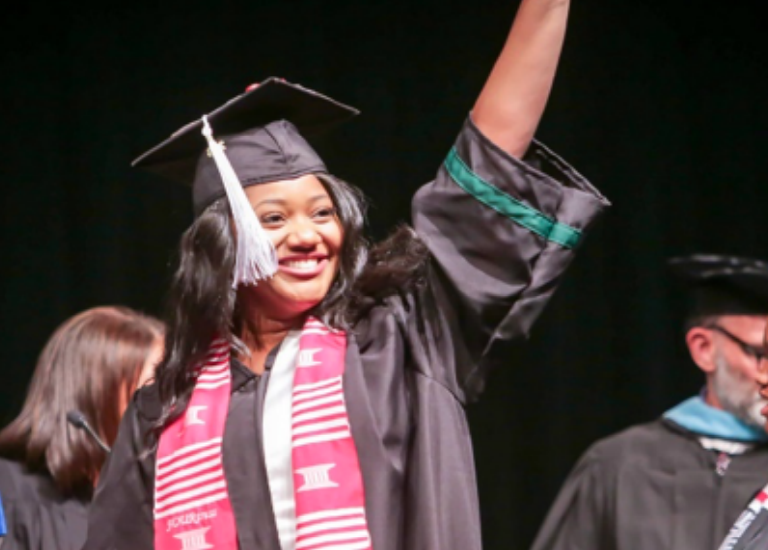 CMSD NEWS BUREAU
6/10/2021
Twelve Say Yes to Education scholars graduated Wednesday from Cuyahoga Community College..
They followed Leann Andino, who became the first Say Yes Cleveland student to earn a bachelor's degree when she graduated from Cleveland State University last month. Leann received a bachelor's degree in psychology and has been admitted to CSU's master's program in clinical psychology.
The CMSD alumni are some of the first success stories from Say Yes, which came to Cleveland in 2019.
Using funds from a locally generated endowment, Say Yes provides scholarships to graduates of CMSD and partnering charter high schools. To qualify, students must live in the District or city of Cleveland and be continuously enrolled in a CMSD or partnering charter high school from ninth grade until graduation.
Andino was valedictorian of the New Tech West High School graduating class in 2019. While in high school, she participated in the High Tech Academy dual enrollment program and earned an associate's degree from Tri-C.
In the early stages of the pandemic, Andino spoke with the CMSD News Bureau about persevering after the CSU campus closed and students shifted to remote learning. She also said her Say Yes scholarship had made success possible.
"Say Yes is the reason I am able to attend college," she said.
The scholarships pay up to the full value of tuition, minus federal and state aid, at all public colleges, universities and Pell-eligible training programs in Ohio and more than 100 private colleges and universities across the country.
So far, Say Yes has provided 1,130 students with a total of $3 million in scholarships. During the past year, Say Yes recipients were enrolled in 56 different schools, including Harvard, Case Western Reserve University, Ohio State University, Duke and the Rochester Institute of Technology.
College Now Greater Cleveland matches Say Yes students with a mentor who works with them while they are in college. At Cuyahoga Community College, they also receive coaching and other support through the Say Yes Scholars program.
School-based Say Yes specialists organize support services to help families overcome barriers to success and keep students of all ages on track to high school graduation. Referrals are frequently made for needs such as medical and mental health, legal assistance and food.
Another 26 schools will get a family support specialist this school year, bringing the total to 68. All District and partner charter schools will have specialists by 2023.
Immediate Say Yes goals include increasing postsecondary enrollment hurt by the pandemic and restarting and expanding afterschool programs in all Say Yes schools.
Diane Downing, executive director director of Say Yes Cleveland, recently gave the Cleveland Board of Education an update on the program.