Return to Headlines
City, CMSD to review proposals for surplus school properties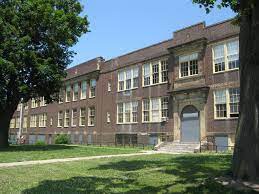 Market rate and mixed-use housing is proposed for the site of the former Nathaniel Hawthorne School.
CMSD NEWS BUREAU
6/30/2021
CMSD and the City of Cleveland will pursue further discussion with developers interested in 14 surplus school properties.
The properties were among 19 that were offered for redevelopment in a process facilitated by the city. The list included 12 closed schools and seven vacant parcels –- in all, 61 acres of land and nearly 1 million square feet of building space.
"CMSD and the City of Cleveland have collaborated to establish an unprecedented process to transfer buildings and properties no longer being used for CMSD purposes," said Mayor Frank G. Jackson. "Through this effort, CMSD will be relieved of liability and maintenance costs and the City's neighborhoods will benefit from private investment in these properties.
A team representing the District and city evaluated the developers' qualifications and proposals. The team rejected all proposals for three sites. Two other properties drew no formal responses. The city and District will make another attempt to seek proposals for the remaining properties.
Proposals that cleared the first phase in the three-phase process call for housing ranging in type from senior to market rate, both rehab and new construction, along with enhanced community green spaces and some retail. Of note, proposals to rehabilitate five local landmark structures will move forward.
The proposed purchase prices for all sites total more than $2.5 million.
The process, which is nonbinding, attracted a total of 51 proposals, including a blanket offer to turn any properties not selected for redevelopment into parkland.
Developers represented a mix of groups from Cleveland and out of town and showed a high level of experience. Female- and minority-owned businesses are lead developers or major project partners on several of the teams.
The developers who were selected must now submit conceptual and schematic designs for approval and confirm details of financing.
To see a list of the proposals, go here.