Return to Headlines
2020 graduates finally get a prom
CMSD NEWS BUREAU
7/21/2021
Aayliah Thomas is preparing to start her second year at Cleveland State University this fall, but before she does she needed to go back to high school for just one night.
She was a senior at James F. Rhodes High School in 2020, the year the COVID-19 pandemic shut down the world, including a prom for Thomas and her CMSD classmates. District CEO Eric Gordon promised these grads they would have a prom once it was safe.
"We need this last moment together before with enter the real world," said Thomas.
Many in the Class of 2020 feel just like Thomas, that COVID canceled a lot of their senior memories.
"It was just sad," said Cassie Johnson, a Cleveland School of the Arts graduate. "I was upset."
That is why Thomas emailed CMSD administrators asking them for a prom.
"I wrote that it was very unfortunate that we didn't get to have a prom," she said. "And that it was important we have that closure."
Once administrators received Thomas' email, a prom committee was formed to plan the event. Thomas was instrumental in the planning.
A survey went out to the cCass of 2020 to see if graduates wanted to attend, and a small yet passionate goup of alums responded.
Last week, more than a year after they graduated from high school more than 100 former students and their dates boarded the Goodtime III for their prom.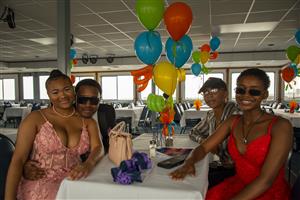 "I didn't want to go five or 10 years in the future telling my kids I didn't have a prom," said Ricardo Alicea, a 2020 graduate who leaves to join the Navy next month. "Now I have a story to tell."
These now young adults dressed up and danced the night away.
"I am so happy," Johnson said.
They saw old friends and were able to make memories of night COVID did not cancel, just delayed.
"It is a very nice feeling to know Eric Gordon still cares about us, even after we graduated," Thomas said.