Return to Headlines
CMSD, Tri-C offer free college courses for parents
CMSD NEWS BUREAU
9/2/2021
Children are not the only ones who can receive a high-quality education through the Cleveland Metropolitan School District. Their parents can, too.
This fall, CMSD and Cuyahoga Community College are offering parents and caregivers of District students an opportunity to take college courses for free. The courses will be scheduled weekly at CMSD school sites.
The books and materials are also free for parents or caregivers who have a child enrolled in CMSD. The District pays for the program with federal funds.
"We are building a culture of career and college readiness," said Tracy Hill, the executive director of the District's Family and Community Engagement Department (FACE).
The Tri-C Parent University Learning Series began in 2017. Since then, more than 200 parents have taken college classes, with 21 going on to become full-time college students.
The courses offered this fall include Creative Parenting Skills, Strategies for Success, Fundamentals of Interpersonal Communication and Medical Terminology. All are introductory classes with no prerequisites.
"We are very thoughtful about what industries are here in Cleveland and where would be a good place for our parents to maybe start on their next career," said Hill, adding that a course in information technology will be offered next semester.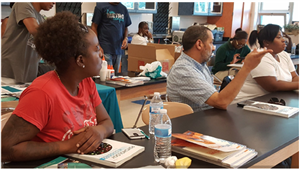 CMSD is also working with the local nonprofit DigitalC to provide internet access and computers to those in need. DigitalC focuses on improving digital literacy and connecting residents with affordable, high-speed Internet.
"The parents really don't have to worry about anything except studying and getting good grades," said Hill.
Not only will these parents have an opportunity to take college courses, but they will also be able to help their children when they are ready to go off to college. FACE has offered college tours for students and parents, and many parents said they had not attended college.
"The parents will get that experience of understanding how to manage their time, follow a syllabus, take notes, engage in the conversation and the dialogues that occur during these classes," Hill said. "And they can better support their students."
Classes begin Monday, Sept. 14 and are filling up fast.

Those interested must fill out the Tri-C application before registering. Use this link to complete the Tri-C application: https://www.tri-c.edu/apply/index.html
After you complete your Tri-C application, select your class HERE.
For questions about the application, contact James Gardner, Jr., Tri-C recruitment specialist, at James.Gardner2@tri-c.edu or 216-987-3339