Return to Headlines
Fellowships introduce CSU education students to CMSD

CMSD NEWS BUREAU
9/24/2021
As they finish work on their degrees at Cleveland State University, more than 30 students are receiving experience in urban education through the Cleveland Teaching Fellowship.
The fellowship, a partnership between CSU, CMSD and the Cleveland Foundation, engages highly qualified teacher candidates in paid student teaching positions at District schools. This is also a talent pipeline for CMSD.
Katleyn Zeitz, a member of what is the fellowship program's sixth cohort, is spending four days a week in a kindergarten classroom at William Rainey Harper School.
"This is giving me the opportunity to learn the ins and outs that I would have never received if I weren't in this fellowship," said Zeitz, who is majoring in early childhood education, PreK-5, at Cleveland State.
As part of the fellowship, the 32 CSU students also will participate in professional development sessions where they will discuss teaching in an urban district.
Zeitz said the program helps to dispel preconceived notions about how schools operate in an urban district.
"It is just like every other school, if not better," said Zeitz. "Everyone is working so hard. I would have feared I would have fallen into those negative stereotypes, if not for this program. But now I feel like having this opportunity has shown me this is exactly where I want to be, teaching in an urban district."
That is exactly what District CEO Eric Gordon likes to hear.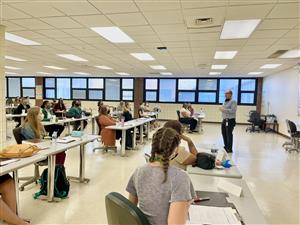 Recently, during the first session, Gordon spoke to the fellows about what he expects from teachers who work in the District.
"I need people who love my kids and care about the experience that black and brown children are having in schools in our country," said Gordon.
Gordon said he wants these aspiring teachers to empathize with the challenges many of the students face. He also emphasized that the fellowship is competitive and only the best students are chosen to spend a year in the District learning the ropes.
"You are here only because you demonstrated through your application and your interview that you care about my kids," Gordon told the fellows.
The program responds to a national teacher shortage by creating this pipeline of strong teacher candidates committed to urban education. The current group will be considered for hire next year.
Courtney Nudell, recruitment, and retention coordinator at CSU, said about 40 former fellows are currently working for CMSD, out of 200 who have gone through the program.
"The goal throughout the year is to do mock interviews and make connections," said Nudell. "The fellows have the opportunity to get their foot in the door against the hundreds of other applicants for open positions."