Return to Headlines
Nathan Hale robotics program expands (Video)
CMSD NEWS BUREAU
12/22/2021
Second and third graders are next in line to learn how to build and code a robot at Nathan Hale PreK-8 School.
The Lego Robotics program at Cuyahoga Community College's Youth Technology Academy, sponsored by NASA, is enhancing the student's social/emotional learning, organizational and teamwork skills through the building and coding of a robot.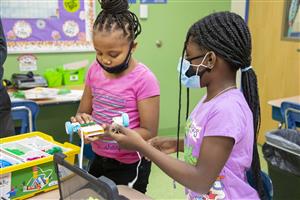 "We are introducing them to a whole new world of computers, toys and creativity," said Brian Simmons, a linkage coordinator with the District's Closing the Achievement Gap program. CTAG is designed to help at-risk students thrive academically.
Building and coding robots gives students an authentic way to build computer and social emotional learning skills by allowing students, who are working together, to explore a range of emotions, positive communication with others while critically thinking how to solve problems.
In 2019, Nathan Hale eighth graders became the first PreK- 8 students in the District to earn college credit while participating in Tri-C's Youth Technology Academy robotics program. The STEM-focused high school program, which trains students for the technical workforce, taught the classes.
But educators wanted to introduce students to coding earlier in their academic careers.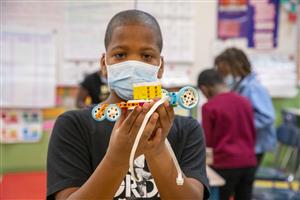 "The earlier we could get the kids involved, the more they would understand going through the process," Simmons said.
Twice a week students learn to build the robot and then code it to move forward and turn at a 90-degree angle.
Simmons says the students use a computer program that allows the students to line up shapes. And if the coding doesn't' work, they must figure out why the robot didn't move.
The students get a kick out of watching their hard work pay off when they see the robot move.
"I thought it was awesome," said Jamie'Lna, a Nathan Hale second grader. "I never made a robot move before."
Simmons says the students will participate in a robotics competition later this school year.