Return to Headlines
Dominion Energy contributes $500,000 to Say Yes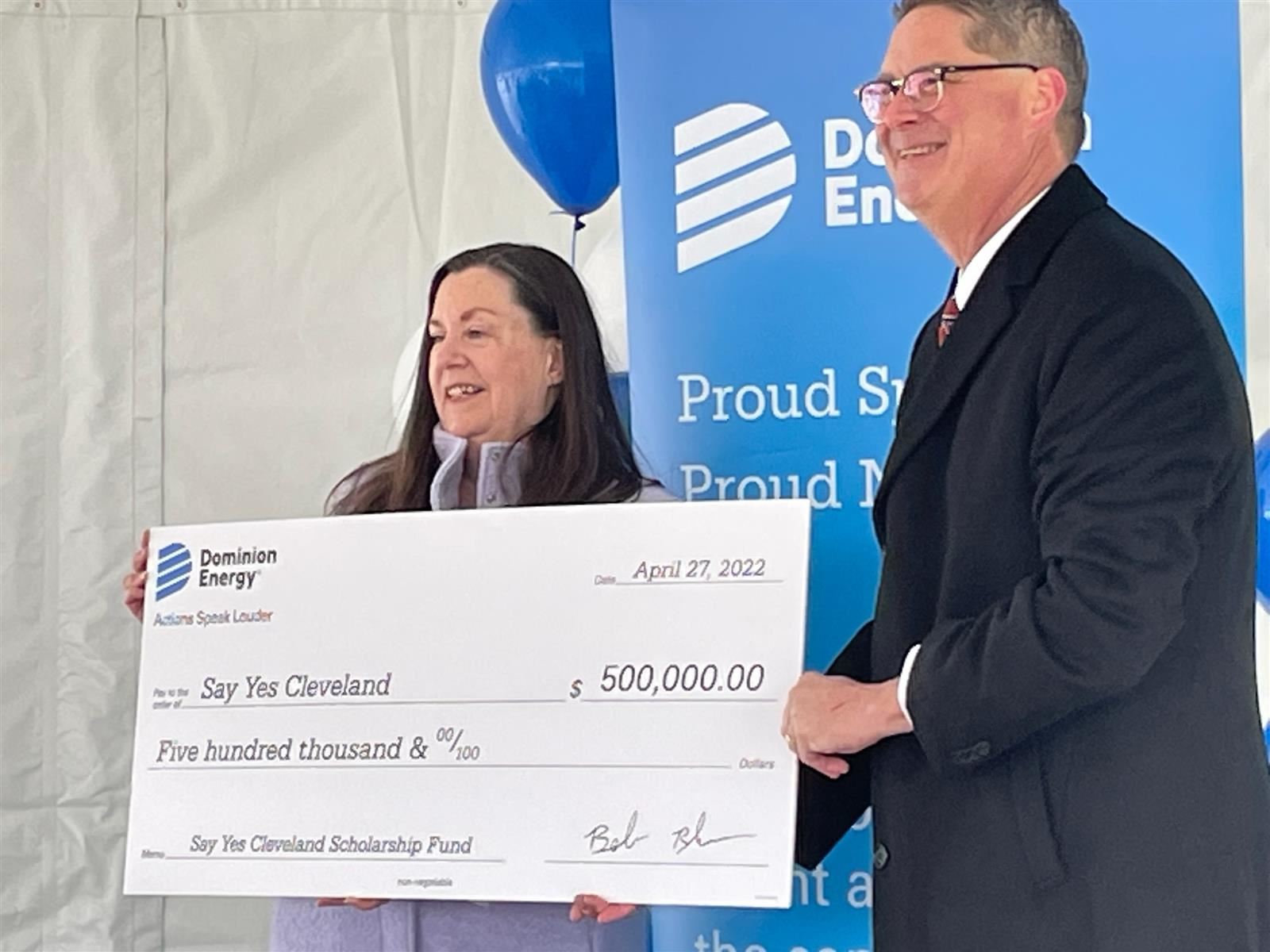 Jim Eck, vice president and general manager of Dominion Energy Ohio, and Diane Downing, executive director of Say Yes Cleveland, show off a ceremonial check.
CMSD NEWS BUREAU
4/27/2023
Dominion Energy has contributed $500,000 to help fund Say Yes to Education scholarships for CMSD graduates.
The company announced the contribution Wednesday at Cuyahoga Community College, a frequent destination for students who graduate from the District's high schools.
"It's our commitment to educational equity and the Cleveland community," said Jim Eck, vice president and general manager of Dominion Energy Ohio. "I can't be more pleased with today's announcement, an announcement that will surely change lives."
Say Yes to Education Cleveland, launched in 2019, provides CMSD graduates with scholarships that pay up to the full value of tuition, minus federal and state aid, at all public colleges, universities and Pell-eligible job-training programs in Ohio. The scholarships also may be used at more than 100 private colleges and universities across the country.
Say Yes has been hailed as game changer with the power to transform Northeast Ohio's economy. The community has now raised $95 million toward the Say Yes goal of $125 million, an amount projected to last 25 years and serve several generations. Diane Downing, executive director of Say Yes Cleveland, said she hoped that Dominion's donation would inspire other partners to contribute and close the gap.
CMSD's graduation rate is at an all-time high of 80.9 percent, and Black and Hispanic students are graduating at rates higher than their peers statewide.
But until Say Yes came along, affordability was an issue. CMSD Chief Executive Officer Eric Gordon said the scholarship fund has changed the narrative.
"Before, the stories I told were stories of desperation," he said. "Today, the stories are stories of hope for every single graduate from the Cleveland Metropolitan School District for the next 25 years."
Jayla Marshall, who graduated from the former JFK E3agle Academy in 2020, and Bishop Crosby, a 2019 graduate of the now-closed Martin Luther King Jr. Career Academy, said they have prospered at Tri-C.
Marshall, who is studying respiratory care, mentioned support from the College Now mentor assigned to Say Yes recipients. She will do her clinicals this summer at the Cleveland Clinic and hopes to work at a pediatric hospital next year.
Crosby cited support from Say Yes Scholars, a Tri-C program for students who receive the scholarship. After he obtains his associate of arts degree, Crosby plans to go on to Cleveland State University, study comparative religion and eventually perform missionary work.
After the scholarships became available, the postsecondary enrollment rate of the CMSD graduating class spiked for the first time in five years. The rate has dropped since the pandemic hit.
To receive a Say Yes scholarship, students must be continuously enrolled in a District or partner charter high school and live in the District or city of Cleveland from ninth grade until graduation. For more information on the program, go to SayYesCleveland.org.