Return to Headlines
New school year will bring new tools, services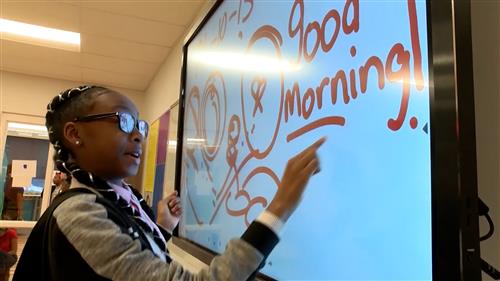 CMSD is installing interactive Clevertouch screens in classrooms as part of a two-year effort to make sure every classroom in the District has a Clevertouch.
CMSD NEWS BUREAU
7/29/2022
A new school year is almost here, bringing with it a number of things that are new and different.
While most schools won't start classes until Aug. 22, some high schools that operate year-round will welcome ninth graders on Monday and other students on Tuesday. Several other schools will return Monday, Aug. 8.
The list of what's new this year includes:
CMSD will soon introduce PowerSchool, a new easy-to-use online location where parents and caregivers can access their children's records, communicate with teachers and submit consent forms.
Yellow buses will be equipped for Wi-Fi, enabling students to stay connected from home to school and back.
The District will install interactive Clevertouch screens in more classrooms, starting a two-year plan to ensure all of CMSD's 3,000-plus classrooms have the screens.
A bar code added to student ID cards will allow parents to monitor the progress of their child's yellow bus and know when and where the student gets on or off the bus. The parent can monitor using the Edulog Parent Portal app, available through the App Store or Google Play.
Say Yes Cleveland family support specialists will now be in all buildings, organizing services that help students and families overcome barriers to success. Say Yes will also expand after-school programming from elementary to high schools.
The conversion of media centers into community, college and career planning centers will expand from high schools to PreK- and K-8 schools.
The number of high schools that compete in esports will increase from the current 14 to as high as 20. This will be the second year for esports.
Three schools have new names. The Board of Education approved renaming the schools, following a review process that the board initiated a year ago:
Patrick Henry School was renamed for the late U.S. Rep. Stephanie Tubbs Jones. Tubbs Jones, who also was a Cuyahoga County judge and the county prosecutor, served in Congress from 1998 until her death in 2008.
Thomas Jefferson International Newcomers Academy is now the Natividad Pagan International Newcomers Academy. Pagan, who died in 2016, was a community leader and District administrator and principal who led the Newcomers Academy, a school for immigrants and refugees.
Louis Agassiz School has been renamed for Mary Church Terrell, an internationally known lecturer, educator and activist for racial equality and women's rights from the late 19th century through the mid 20th century. She earned bachelor's and master's degrees from Oberlin College.
The year will bring further development of CMSD's Vision for Learning, a new approach that is designed to be more personalized, relevant and engaging for students.
The Planning and Career Exploration or PACE, program will grow as it helps all students identify careers that align with their passions and pay a living wage.
CMSD will increase the visibility of its Get 2 School, You Can Make It! Campaign, which began in 2015. The goal of the relaunch is to improve attendance that has suffered during the pandemic.