Return to Headlines
Fathers celebrated during annual walk (Video, Photo Gallery)
CMSD NEWS BUREAU
9/15/2022
Fathers and father-figures from 61 schools across the district took time Thursday morning to take their children to school.
At Wade Park PreK-8 School, members of law enforcement agencies including Cleveland Division of Police, the Cuyahoga Sheriff's Department and Ohio State Highway Patrol gave dads a round of applause as they walked into the school.
"I am sure they were surprised to see all the police cars out front," said Mike Bulter, a Commander with the Cleveland Division of Police Third District. "But I hope they are really going to feel our support."
Fathers, like Johnny Knox, did appreciate the clap in.
"I liked it," he said. "It gives us a chance to participate and shows support in the neighborhood and in the community."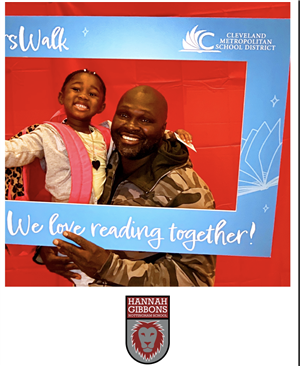 At Hannah Gibbons-STEM School, Fathers and their children took pictures and received a copy of the book "The Fathers Walk" written by Margaret Bernstein.
"My latest book is about the fathers walk," said Berstein. "Think it is an incredible event. I love to see dads and their kids walking hand in hand."
Bernstein, who is the Director of Advocacy and Community Initiatives at WKYC-TV, was instrumental in starting Dickens Reads, an afterschool program to improve literacy scores at Dickens PreK-8 School the last several years. WKYC adopted Harvey Rice Wraparound School this academic year as a part of its Education Station.
Family and Community Engagement Executive Director, Tracy Hill says the district gave the book to dads at more than 30 schools during the fathers walk.
"We thought it was very important to share the book with our dads to promote reading at home," said Hill. "Because when dads or moms read to their children literacy development happens at a faster rate."
The Fathers Walk is an annual nationwide initiative dedicated to showing how important it is for fathers to be involved in their children's education.