Return to Headlines
Vol. 5: ESSA and Ohio State School Report Card
ESSA and Ohio State School Report Card
How It Can Be Better for All Districts
What is Ohio State School Report Card?

Since 2003, the State of Ohio issues an annual report on each school district's performance, also known as the the State Report Card. Components of this report change from time to time, but the method of evaluation invariably has come to focus on test results. Now, as Ohio makes its plan to implement Every Student Succeeds Act (ESSA), the state has an opportunity to make state report cards more meaningful to families and stakeholders. CMSD also wants to see a report card more meaningful, more transparent and more comprehensive.

Positive Outlook Due to Every Student Succeeds Act (ESSA)
The picture below is linked to a brief introduction of key components in ESSA, for your review. Click anywhere on the picture below for an additional video from the Education Trust, a think tank that advocates policies leading to academic excellence.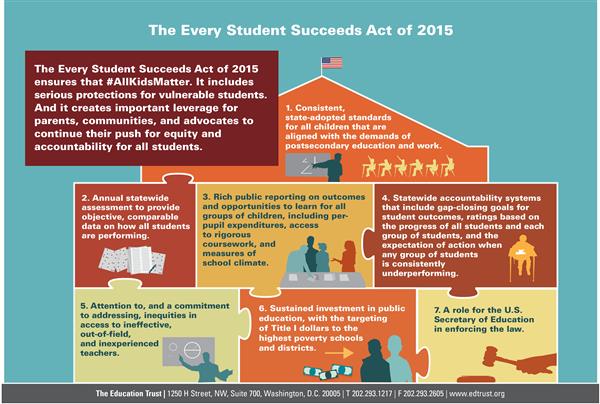 The purpose of ESSA is to offer quality education through quality accountability system. To fulfill this purpose, a holistic evaluation scheme for each state is a prerequisite. This time, we may include more innovative factors for evaluation. On this arduous strife upward, Ohio's fight for better education starts with a better state report card.
A Better Way to Report Growth
CMSD believes that emphasizing growth over achievement would benefit all districts, especially high-performing districts that need holistic analyses to maintain their excellent performance. State Test scores are just one important indicator of growth; therefore, educators, parents, stake-holders and students alike would benefit greatly from a more comprehensive assessment. Below are our recommendations:
Rethinking the Gap Closing Component: Ohio needs an Annual Measurable Objective that measures progress against historical performance of the same or similar schools.
Fix or Remove the Current K-3 Literacy Component: To better this component, Ohio must include a spring to spring performance evaluation timeline and reduce the complexity of this component.
A More Balanced Focus on Outcomes: Current focus of the outcomes should expand to include teacher practice and not just student achievement.
Consideration of Engagement Factors: Parent and Student Engagement, or Teacher Equity Measure, though limited in their impact to raise test scores, are still worth including. Educator effectiveness, not just seniority, should be considered when defining teacher equity.
Official Explanations that Focus on Growth: In the manner and substance of explanation, the state report card for each district can focus on growth demonstrated by each district thereby giving educators and parents an idea of which schools are working.
Include Ratings that Take Into Account Significant and Targeted Improvement: Lower-performing districts need such ratings to identify programs functioning effectively as pathways to long-term growth among students.
Photos courtesy of the Education Trust and the George Fund Foundation (Children of Cleveland Schools).