Return to Headlines
CSA students honor their heroes at annual breakfast (Video)
CMSD NEWS BUREAU
2/6/2020
At the Cleveland School of the Arts this morning, breakfast was made for heroes. More than 80 students invited a person who has had an impact on their lives as a way to say, "Thank you."
Shaunquitta Walker, the CSA Parent Advisory Committee chairperson, says the breakfast was started four years ago so students could honor that special someone in their lives, and the person may not be a parent.
"We normally have Muffins with Mom or Donuts with Dad, but in today's society some students are not with their biological parents, they are with a relative, caregiver or in a foster home situation," said Walker. "This gives students an opportunity to tell the ones they love how much they appreciate them for the sacrifices they made."
Tony Crump, an advisory committee member, says the most important part of the program for him is when students tell their heroes why they are so important.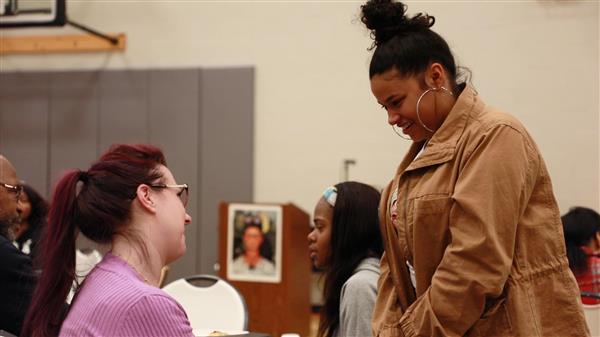 "I have seen grown men cry," said Crump.
During the breakfast, students recited poetry, played musical instruments and sang to their heroes.
Nya, a 10th-grade vocal major, sang "I'd Rather Be Me" from the musical "Mean Girls." She said her mother is her hero.
"No matter what happens, we stick together, and she is my 'shero,' " Nya said.
Monique Hurd says she had Nya at the age of 19 and at times the two grew up together. She has provided for her daughter by working two jobs and recently became an entrepreneur.
Her mother's hard work is not lost on Nya.
"I see her go from working multiple jobs to now being an entrepreneur, and it is very inspiring that I know I can do the same thing" Nya said.
"I always felt like Nya is a younger version of me," said Hurd. "Watching her grow up has been a blessing, and one of God's greatest gifts. I am so proud of her, and I love watching her perform."