Return to Headlines
Special Education Fair offers resources and support for parents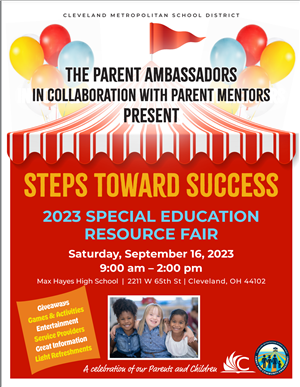 CMSD NEWS BUREAU
09/07/23
Niquita Baker remembers the day she found out her son had a learning disability as if it were yesterday.
Shortly after he received a glowing review from his third-grade teacher, Baker says a letter came in the mail.
"I was so confused," recalls Baker, who works in the District's Athletics Department as the Manager of Fiscal & Athletic Operations. "This letter stated my son did not pass the third-grade Reading Guarantee Program, which meant that he wouldn't be going on to fourth grade unless he passed it."
Baker later discovered her son, Darrian, now an honor roll student at Cleveland Heights High School, has attention deficit disorder, a condition normally diagnosed in children who have trouble paying attention and executive functioning skills.
Baker says even though she works in a school district, it was still challenging to know how to navigate a 504 plan and then an Individualize Education Plan or IEP.
Good thing, my peers were former principals and they helped me navigate how to ask certain questions and how to effectively get messages across to his educators. But not everyone has that."
That is why Baker is encouraging all families with children on IEP's or 504 plans to attend the Steps Toward Success Special Education Resource Fair on Saturday, September 16th, from 9am to 2pm at Max Hayes High School, which is located at 2211 W. 65th Street.
The Fair is a collaboration between the District's Parent Ambassadors, Parent Mentors, Special Education Department and Family and Community Engagement Department, for which Baker serves as the committee chair.
She said she wants to help break the stigma of having a child on an IEP or 504 plan as something bad or a detriment to a child's academic success.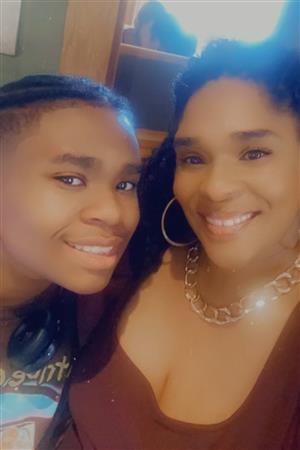 Niquita Baker and her son Darrian
"Nobody is perfect, and everybody has something where they can use additional support," said Baker. "That is why it's important to understand your child is not broken, your child is perfect. And within our district, we have so many support systems in place to help your child be great."
At the resource fair there will be panel discussions, information, resources, fun activities, food, prizes, and the chance to network with other families who have children receiving services through an IEP or a 504 plan.
"We want parents to feel empowered as if a weight has lifted off of their shoulders when they leave the fair," she said.