Return to Headlines
Former refugee masters English, finishes second in class
Before Jacqueline Niyocwizera's family moved to Cleveland from Tanzania, she never had a permanent home. She grew up in refugee camps under constant threat of violence, starvation, rape and displacement.
Her family moved from one refugee camp to another throughout Tanzania, a large country on the East African coast.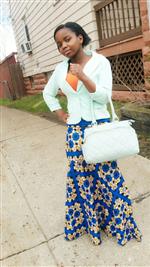 It wasn't until she and her family resettled in Cleveland three years ago that Jacqueline was able to focus on what mattered to her most: her education.
Now, Jacqueline has graduated second in her class at Facing History New Tech High School. She is heading to Cuyahoga Community College in the fall with plans to transfer to John Carroll University soon after to pursue accounting.
Jacqueline's parents are from Burundi, another East African country bordered by Rwanda to the north and Tanzania to the east and south. They were forced to flee because of war.
Jacqueline described life in Tanzania as "very, very tough." Getting to school was a major challenge. She and her siblings had to walk one hour to and from school each day -- with an additional trip home for lunch. But she considered herself lucky because some children lived too far away to walk to school.
She is one of 10 children in her family but one of her olders brothers became separated from the family when violence broke out at one of the camps a few years ago. The others are not sure whether he is alive and haven't been able to get in touch with him.
Despite her challenging childhood, Jacqueline walks around with her head held high and her smile bright.
Talking to Jacqueline, it's hard to believe she knew no English when her family came to Cleveland, though she was fluent in Swahili, French and Kirundi. With help from her teachers at CMSD's Thomas Jefferson International Newcomers Academy, Jacqueline learned to read in English in one year.
"My first day at school was hard because people would try to talk to me, but I couldn't understand one word they were saying."
But it was another year before she became comfortable having a conversation in English.
"My first day at school was hard because people would try to talk to me, but I couldn't understand one word they were saying" she said.
When it was time for her to leave Thomas Jefferson for another CMSD high school, Jacqueline said she chose Facing History for its accepting atmosphere. The school's curriculum emphasizes social justice, human rights and tolerance.
"I found that it was different from other schools, because they welcome everyone, no matter who you are or where you come from," she said.
Adjusting to life in the United States presented its own set of challenges for Jacqueline and her family.
There was also a lot to learn about American culture, holidays and fashion. While Jacqueline was initially nervous to wear her traditional clothes, she decided it was more important to stay true to herself than to worry about what others might think. She proudly wore traditional clothes that her parents made her on the day she gave her capstone presentation about refugees in the United States.
"If I throw away my culture, it's like throwing away myself, so I will never be afraid to be different, no matter what people think about me," she said.
Looking back at her journey, Jacqueline said she is grateful to have come so far in life and in school. She credits her success, in part, to her teachers at Thomas Jefferson and Facing History, especially her counselor at Facing History, Donna Stevens, who helped her explore options for college.
"I didn't know if I would make it," Jacqueline said. "Where I was before, I've never had these kind of opportunities. I'm really, really happy."
Jacqueline's dream is to return to Tanzania and open a bank for refugees, who aren't allowed to put their money in Tanzanian banks if they aren't citizens.