Return to Headlines
High-achieving twins head to Princeton, Yale
From the classrooms at Wade Park School to the halls of the John Hay Campus, twin sisters from CMSD's Class of 2017 are setting out to launch their college careers at Ivy League universities.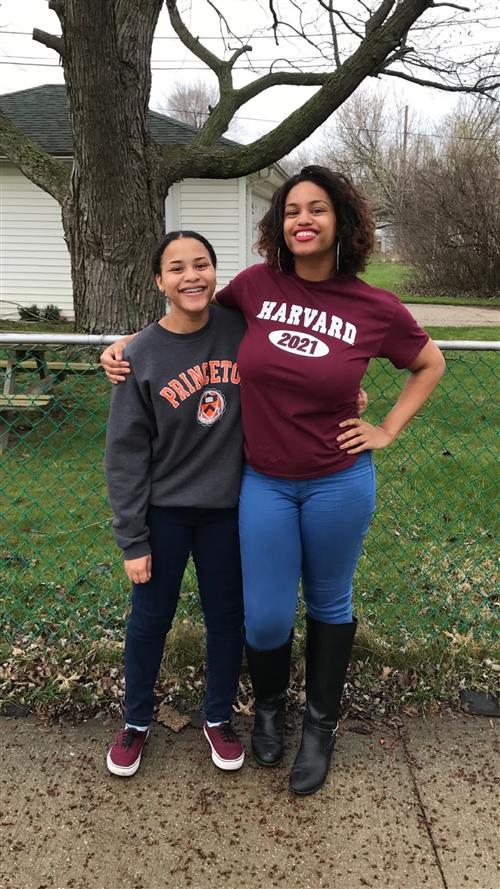 Dana Harris, a new graduate of the Cleveland School of Science and Medicine, and Danielle Harris, of Cleveland Early College High School, are headed to Princeton University and Yale University, respectively. The sisters say support from their parents and a healthy sense of competition with each other helped propel them to success.
Dana chose Princeton over seven other universities that also offered her a spot. News of the twins' college plans spread quickly, garnering attention on social media and in a news story from Fox 8 Cleveland. Despite all the attention she received for her accomplishment, Dana said she wasn't particularly surprised when she got her acceptance letter.
"I was extremely elated that I got into Princeton, but I wasn't shocked," Dana said. "I've worked hard and stayed dedicated during high school to set this accomplishment in place."
"Danielle and I always worked hard," said Dana, "and had a competitive nature, but after time, it grew into support for each other."
"Danielle and I always worked hard and had a competitive nature, but after time, it grew into support for each other."
While she hasn't decided on her major – she's leaning toward either linguistics or psychology -- she said the education and support she received at CSSM laid a strong foundation for whatever path she chooses.
Dana said her CSSM teachers helped her through the college admissions process by staying after school to help her fill out applications and by singing her praises in recommendation letters.
"The teachers really do care about our success, and they'll make sure you have everything you need in on time to get to college," she said.
Having the opportunity to take a range of Advanced Placement and honors courses and participate in internships at prestigious institutions like the Cleveland Clinic was an added boost.
While Dana is settling into her dorm at Princeton, Danielle, will be about 130 miles away getting her bearings at Yale.
Danielle found what she calls "the perfect major" at Yale. The program she chose, called Computing and the Arts, lets students combine computer science with one of five arts disciplines
Danielle is a lifelong dancer and made her theatrical debut last year in the CMSD All-City Arts production, "The Wiz." But she also has a knack for math and science; she said she took calculus senior year "for enjoyment."
Her plans for the future include touring with the renowned Alvin Ailey American Dance Theater. After that, she wants to become a lawyer in New York City, specializing in civil rights or criminal defense.
"A lot of people always ask me how it's possible to take on two different fields and manage such a heavy time commitment," she said.
To answer, Danielle points to her mentor Peter Lawson Jones, former Cuyahoga County commissioner and Ohio state representative. Lawson Jones is also an attorney, actor and playwright.
Danielle knows that she, too, can do it all. She wants to be a role model to other young people who have varying passions and the drive to follow each of them.
"I want future generations to have someone to look up to who pursued two different fields and was successful in both of them," she said.
While the sisters have different interests, they're bonded together by a shared love of their family that drives everything they do.
"What motivates me most is how much I want to make my family happy and making sure that they can live the lifestyle that they want to," Danielle said.