Attendance
Page Navigation
Return to Headlines
Commuter ads praise attendance gains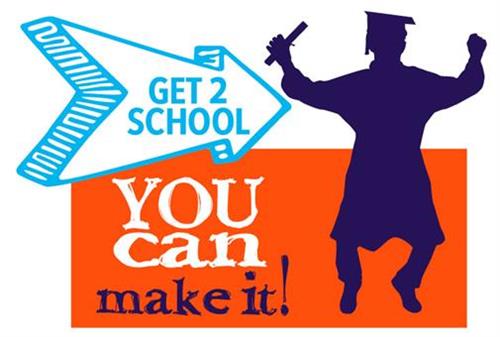 CMSD NEWS BUREAU
1/27/2017
District students have improved their attendance, and if some RTA passengers have not heard the news yet, they soon will.

Starting Feb. 1, when buses pass one of 10 select schools, a recording of Browns players Cameron Erving or Xavier Cooper will announce the school by name.


The player will then explain that RTA, Commuter Advertising and the Cleveland Browns Foundation want to congratulate the District as a whole on attendance gains. The player will close by telling students "Keep on getting to school. You can make it." The spots will run until the end of the school year.
Listen to one of the spots by clicking below.

The "Get 2 School. You Can Make It!" campaign reduced chronic absenteeism by 6.3 percent last school year and improved attendance to more than 91 percent. The Browns Foundation is the campaign's signature partner and financial supporter.


The schools named in the ads include Adlai E. Stevenson, Almira, Bolton, Fullerton, George Washington Carver, Marion-Sterling, Michael R. White and Patrick Henry schools and East Tech and Glenville high schools. In 2014, CMSD classified all 10 as Investment Schools in need of intervention to improve their academic culture and performance.
District data shows that CMSD students with 10 or more absences are 9 percent less likely to meet Ohio's Third Grade Reading Guarantee, required for promotion to fourth grade. They score an average of 12 points lower on state reading tests and 15 points lower in math; high school students are 34 percent less likely to graduate.
District schools have continued to stress the importance of attendance this school year.

When the first semester ended, 10 CMSD schools had seen increases of 4 percent to 16 percent in the number of students whose attendance was "on track" when compared with the average of the previous three years.

The District considers students to be on track if they are on pace to miss fewer than 10 days during the school year. That is a tougher standard than the one observed by the state, which defines chronic absenteeism as missing 18 or more days.

Some of the strategies employed by those schools included:
Bolton – Students with good attendance earned monthly dress-down days and pizza parties, as well as awards, quarterly field trips and Bolton Bee Bucks to spend at a school store.
Charles A. Mooney – An attendance liaison called and sent letters to parents of students who missed school. Mooney also provided incentives such as a movie day, pizza, dress-down days and a bike raffle.
Iowa-Maple – Students with perfect attendance for the week got to participate in time set aside on a "Fun Day" for board games, basketball and other activities.
John Adams High School -- The ninth-grade academy made weekly calls to students who were tardy or absent. To build relationships with students, the school also considered alternatives to suspension.
Nathan Hale – The school gave a morning salute to classes with improved or 93 percent attendance and offered students monthly or quarterly incentives such as dances, skating trips and other parties.