Attendance
Page Navigation
Return to Headlines
CMSD to host absenteeism summit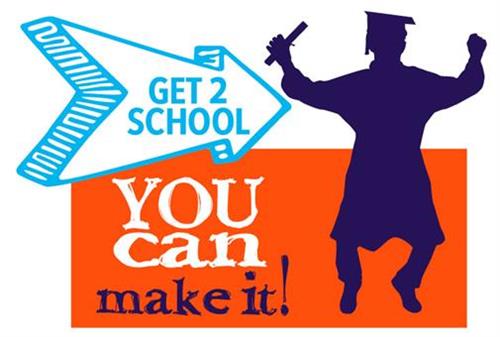 CMSD NEWS BUREAU
4/7/2017
School districts from across the state will share strategies for reducing chronic absenteeism when CMSD convenes a daylong summit April 20 at FirstEnergy Stadium.

Ohio's large urban districts are expected to send representatives, as are systems serving Cleveland's inner-ring suburbs. As many as 350 people may attend.
Among the topics on the agenda will be discussion of
new state law
that decriminalized truancy and requires districts to use intervention strategies instead of suspension and expulsion to deal with truancy and excessive absences.
FirstEnergy Stadium is the home of the Cleveland Browns. The Cleveland Browns Foundation is the lead partner in CMSD's successful
"Get 2 School. You Can Make It!"
attendance campaign.
In a report released last September,
Attendance Works
said data showed that 6.5 million students nationwide missed three weeks of school or more during the 2013-14 school year. The report found a correlation between absenteeism and poverty, stemming from problems such as a lack of proper health care or affordable housing.
CMSD's attendance campaign, which is nearing the end of its second year, combines public education and awareness with incentives such as dress-down days for students. School staff and volunteers staff phone banks, calling the homes of students whose attendance is at risk of falling off track and asking whether the families face barriers to attendance that the District can help address.
"Parents are not turned off," said Lorri Hobson, who heads CMSD's Attendance Office. "They respond because you are empowering them to make better decisions to ensure their children are successful."
Browns players have recorded automated phone calls that span the District and urge students to "get to school." Last year, the Cleveland Browns Foundation donated $100,000 to Shoes and Clothes for Kids, which used the money to provide uniforms, casual clothes, socks, underwear and shoes for up to 2,000 kids.
(Click here to CMSD-TV coverage of the Special Teams Package program.)
Lack of proper clothing often causes children to miss school.
The state defines chronic absenteeism as missing 10 percent of the 180-day school year. CMSD tries to ensure that students miss fewer than 10 days.

District data indicates that students who miss 10 or more days score an average of 12 points lower on state reading tests and 15 points lower on state math exams. They are 9 percent less likely to meet Ohio's Third Grade Reading Guarantee, which is required for promotion to the fourth grade, and, if in high school, they are 34 percent less likely to graduate.
"That's where they begin to reach the tipping point," Hobson said. "We don't want them to miss 10 days."

Last school year, CMSD reduced the number of students with 10 or more absences by 11 percent, 1 point higher than the campaign goal.

That raised the District's average daily attendance by 1.5 points, to more than 91 percent. Chronic absenteeism, as defined by the state, dropped 6.3 percent, to 29 percent.

CMSD set out this year to reduce the number of students with 10 or more absences by another 10 percent. With just a few weeks left to go, the campaign is on a course to slightly surpass that goal.