Return to Headlines
Facing History students host Human Rights Summit (video)
CMSD NEWS BUREAU
5/5/2015
The acclaimed
film "Selma"
is being released on DVD today, prompting another round of discussions on the importance of the legacy of the Rev. Dr. Martin Luther King Jr. for civil rights.
With that in mind, here are two opportunities for more conversation regarding Dr. King and the role of the movement in Cleveland:
Video interviews (above) of local civil rights giants, conducted students at CMSD's Facing History New Tech High School.
And an audio recording of Dr. King's speech at Glenville High School in 1967. You can listen to the speech on the CMSD website.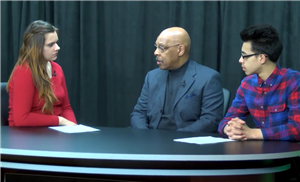 The FHNT students will present their work, including the video captured at the CMSD-TV studios downtown, at the school's second annual Human Rights Summit from 9 a.m. to 3 p.m. Wednesday at the school, 3213 Montclair Ave., Cleveland.
King's visit to Cleveland in April 1967 took place two years after the Selma marches depicted in the movie and about a year before he was assassinated.
King's speech in Cleveland was rediscovered in 2011 by Glenville art teacher Jayne Sylvester and some students as they were rummaging through old materials. The speech, recorded on an old reel-to-reel recorder, had apparently been passed around and shared by teachers through the years but was not generally known to the public.
While the legacy of MLK is an ongoing discussion in CMSD and other school districts, particularly around his birthday in February during Black History Month, the emphasis was particularly strong this year because of the movie's release (see the trailer below).
On Feb. 9, nearly 300 CMSD students – mostly young black males from a half-dozen schools -- were virtually transported from a downtown Cleveland theater to the historic civil rights events Alabama in 1965. The students, mostly from the District's Closing The Achievement Gap, or CTAG, program, attended with tickets provided by
U.S. Rep. Marcia Fudge
.