Return to Headlines
Districts share social, emotional learning strategies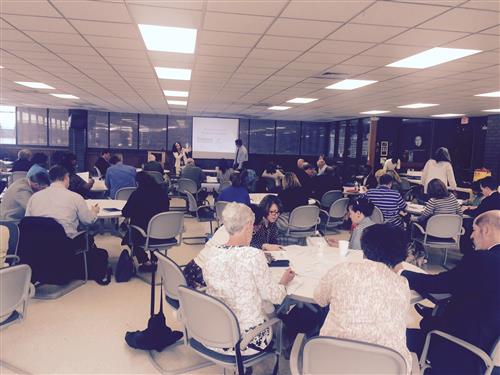 CMSD NEWS BUREAU
5/11/2015
From as far away as Alaska, dozens of educators came to Cleveland last week to talk about how they can overcome obstacles like bullying that interfere with learning and, ultimately, a student's success in life.
CMSD hosted seven fellow members of the
Collaborating Districts Initiative
-- Anchorage, AK; Austin, TX; Chicago; Nashville; Oakland; Sacramento; and Washoe County, NV. – Wednesday through Friday at the Cleveland Marriott Downtown at Key Center.
The
Collaborative for Academic, Social and Emotional Learning
, the conference sponsor, launched the initiative in 2011. CASEL selected the eight districts to lead a national movement in helping children manage emotions, set and achieve positive goals, feel and show empathy, develop positive relationships and make responsible decisions.
"These were places where there was leadership and desire to really move in this direction … to make schools more caring places for kids," said CASEL board member Mark Greenberg, founding director of the Prevention Research Center for the Promotion of Human Development at Penn State University.
CMSD established its social and emotional learning program, "Humanware," in 2007 after a student who had been suspended from SuccessTech Academy returned to the high school, wounded two teachers and two other students, and then killed himself.
The wide-ranging program includes the elementary school PATHS curriculum, student support teams and mental health services in schools, bullying prevention and planning centers, a constructive alternative to in-school suspension.
Conference participants split into groups Wednesday and Thursday and, combined, toured 10 schools to see how they are carrying out the mission.
One of the schools, Wade Park, has just been recognized as a model by both CASEL and PATHS. As she waited for one of the groups to arrive by bus at the school on Thursday morning, Principal Janet McDowell told how she and staff had dramatically improved the climate since her appointment two years ago.
She said the school, located at East 76th Street and Wade Park Avenue, "narrates the positive" by praising instead of criticizing, holding morning assemblies to celebrate birthdays and achievements and constantly emphasizing "character words" like self-control, hope, gratitude, humor and love.
"We changed from everything being punitive to making everything a teaching moment: What did you do? Why did you do it? Do you know it was wrong? What could you do differently?" she said. "The staff was on board. There was a lot of buy-in."
Students who refuse to cooperate still face consequences, but parents seem happier, test scores have improved and enrollment is up from about 300 to 360 in the last year, McDowell said. She believes "the word is getting out that Wade Park is a different place."
The visitors moved in and out of classrooms. In one room, teacher Consuela Townsend talked with eighth-graders about managing stress; in another, Shalaine Miller Murphy's kindergartners took turns heaping compliments on the PATHS Kid of the Day, a coveted honor in Cleveland schools.
Evie Blad, who covers social and emotional learning, school climate and "student well-being" for
Education Week
, was in Cleveland to attend the conference and took the Wade Park tour.
"Districts are increasingly recognizing the importance of these issues and how they come to bear on students' academic performance and their likelihood of success outside the classroom," she said. "We're just trying to help our readers sort out what's effective and what isn't effective."
Conference participants discussed subjects such as the use of data to plan and measure the progress of social and emotional learning programs and ties between high school SEL and social-justice issues.
CMSD Chief Executive Officer Eric Gordon said the District's SEL program has helped as the community prepares for reaction to a judge's verdict in the trial of Cleveland police officer Michael Brelo. Brelo was charged with voluntary manslaughter in the shooting deaths of two people following a November 2012 chase.
The District has prepared staff to help students manage their emotions after the decision is rendered. The District also has appealed to parents and caregivers for assistance in maintaining calm.
"That is why we've been doing this work for eight years," Gordon said Friday during a superintendents' panel discussion at the conference. "It is for these moments."
Also on Friday, high school students who participate in the District's Closing the Achievement Gap program and serve on a CEO Student Advisory Council sat in small groups with conference participants and discussed their experiences and challenges.
The 40,000-student Oakland Unified School District joined the Collaborating Districts Initiative three years ago, a year after charter member CMSD. Oakland Deputy Chief Curtiss Sarikey said the conferences are like reunions with an educational twist.
"You keep learning with people – deeper and deeper," he said.
The Metro Nashville Public Schools has 83,000 students, a group that has a high poverty rate and is so diverse they speak 150 languages. Director of Schools Jesse Register said Nashville has enacted reforms that include small, personal high school academies in its 17 high schools, but the district can benefit from its peers' experiences.
"Even if our districts are all different, we face similar challenges," he said. "This is important work. We need to understand that the children we serve have emotional needs, social-emotional needs, that we have to address."