Return to Headlines
Student advisory council tackles major issues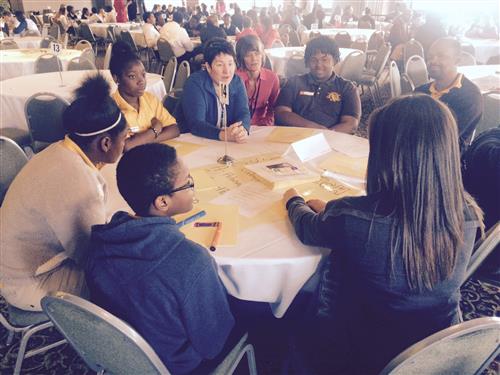 CMSD NEWS BUREAU
5/12/2015
Cashalynn Bolden will graduate from Glenville High School next week knowing that she made a difference there and across the Cleveland Metropolitan School District.
Cashalynn and dozens of other high school students who make up the CEO's Student Advisory Council met Tuesday morning at Windows on the River for the council's fourth and final meeting of the school year.
She said the skepticism she felt when the council began meeting in December 2013 has vanished and been replaced by confidence that students are being heard.
"I didn't think they would really listen," said Cashalynn, who plans to attend Cleveland State University, study biology and eventually become a pediatrician. "They are incorporating our opinions."
The Cleveland Plan, a customized education reform plan written into state law, requires that CMSD give students a say in their education. Chief Executive Officer Eric Gordon has urged the council to take advantage of a right he says is unique to Cleveland.
At full strength, the council would have 16 members -- four per grade level -- from each of more than 30 high schools. Signs indicate that the group has truly found its voice.
Gordon said at the start of Tuesday's meeting that two schools' delegations had taken up a challenge from him and proposed variations of the CMSD dress code -- a frequent target of complaints -- for their schools. Two have submitted ideas for career-tech programs.
The meeting agenda added more substance. Students took a survey designed to help raise school attendance, told District representatives how they could improve their departments and talked over lunch about how youth can make a peaceful statement amid the nation's civil unrest.
Department representatives heard a range of suggestions such as staging more college expos, helping students ease stress at test time, providing more technology and activating student RTA passes during the summer for students working internships. Others included having celebrities record calls to students who are absent and offering more advanced placement and honors courses.
Gordon said the District cannot grant all wishes, but he told staff to identify something they could study further and report on in the fall.
"We have our homework and will get to work," he said. "So stay tuned."
Guest speaker Margaret Bernstein, director of advocacy and community initiatives at WKYC-TV, said she had conveyed positive messages while working as a Plain Dealer columnist and author. She advised the teenagers to heed their "inner voices" and persevere.
"We all can do something," she said. "We just have to use our talents."
The council is intended to be a cross-section of the student population. Marquis Bush, a senior at the Martin Luther King Jr. Campus, suggested that his school approved his application to serve because he isn't shy and can get along with anyone.
Marquis, who plans to study aerospace dynamics at Cleveland State University, has been on the council since its inception and said he has learned a lot from the experience. He, too, believes his input is helping to shape his school and District.
"We can help change it," he said. "Change is good."