Return to Headlines
Summer Reading Academy, OGT Boot Camp under way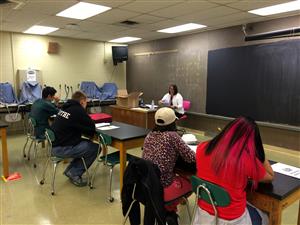 CMSD NEWS BUREAU
6/1/2015
The first day of June looked a lot like the rest of a just-completed school year, with many CMSD students, teachers and principals back in classrooms trying to improve standardized scores.
For some high school students that meant attending an Ohio Graduation Test Boot Camp at one of four schools. For some of the District's younger students, it meant buckling down at the K-3 Summer Reading Academy, spread across a host of sites.
"Both are extremely important, and we had a great first day," said Karen Thompson, the District's deputy chief of curriculum and instruction.
Nearly 350 high school students came to four different high schools, while 1,021 students attended the Reading Academy, Thompson said.
At Lincoln-West High, more than 75 students showed up for test help on the first morning of the two-week OGT Boot Camp, said summer school Principal Yolanda Eiland, who is an assistant principal at James Ford Rhodes High during the regular school year.
About 11:30 a.m., she was working on an Excel sheet list of the students attending the boot camp when a new student walked in to register.
"I can get you there, but you need to be here on time tomorrow," she scolded before smiling and adding: "We're glad you're here."
Students at the high school boot camp are preparing for portions of state tests they must pass before graduating. The boot camp continues through June 12, followed by the summer OGTs, scheduled for June 15-19.
The camp is offered in addition to traditional high school summer school, which is a "credit recovery" program for students in grades 9-12. ­ Those classes will begin June 8 and continue through July 10.
"We get them in here and get them going right away," Eiland said. "It's important that they get the help in the areas they need it most. We have a large number looking for help mostly in science. We get them whatever they need in whatever area they need."
Students heading into grades 10-12 next school year can still attend the OGT Boot Camp at these locations:
• James Ford Rhodes, 5100 Biddulph Ave.
• Jane Addams Business Careers Center, 2373 E. 30th St.
• John Adams, 3817 Martin Luther King Jr. Blvd.
• Lincoln-West, 3202 W. 30th St.
"We're happy to get the 50 to 75 we're getting at the four sites now," Thompson said. "We have four certified teachers at each site, and the students are getting valuable instruction."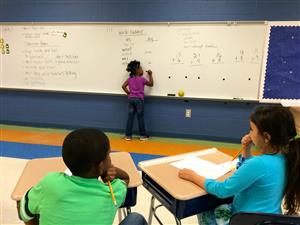 Students on the younger end who have been underperforming in reading and may need help meeting
Ohio's Third-Grade Reading Guarantee
are getting equally valuable reading instruction at eight schools: Almira, George Washington Carver STEM, Memorial, Mound STEM, Patrick Henry, Paul L. Dunbar, Robert H. Jamison and Robinson G. Jones.
Thompson said early literacy is crucial, and this year the Reading Academy is getting volunteer help from representatives of social agencies who act as "wraparound coordinators" for services at some District elementary schools. She said Cleveland State University education majors will also work alongside students, starting next week.
"We know that the foundation for a good education starts with K-3 literacy, and this is our way to reach them in the summer, when there is so often a drop off," Thompson said. "We can reinforce reading skills and work on fundamental skills with those who need intervention."
Thompson said the academy aims to help younger students well in advance of the third-grade reading tests, and she was particularly pleased that a large number of second-graders -- 207 -- had come on the first day. Third-graders still made up the largest portion of students, with about 460 in attendance.
Paul Dunbar had the largest contingent of students, about 130, Thompson said.
Thompson said the District is encouraged that 72 percent of third-graders have already passed reading exams this school year -- an increase of 23 points from the same time last year -- even though the required score for passing was higher this year.
At Robinson G. Jones, summer school Principal Dawn Imler, an assistant at Garfield School during the school year, met with staff in the school library to map out strategy to best serve the more than 80 students on hand for reading instruction. Down the hall, teachers helped kindergarten students with basic skills or helped third-grade students sound out harder words.
The reading academy continues through July 10.