Investing in Cleveland's Children
Return to Headlines
CMSD names 10 more Investment Schools
CMSD has named 10 more Investment Schools that will receive intensive help to turn around their results.
The list, which was announced Thursday, represents the second set of low-performing schools to be placed in the category and targeted for dramatic reform under The Cleveland Plan, CMSD's state-approved blueprint. Overall, the first 13 schools are beginning to make progress as they near the end of their first year under stronger intervention.
Included in the new group are two high schools – East Tech and Glenville –and eight elementary schools: Adlai Stevenson, Almira, Bolton, Fullerton,George Washington Carver STEM, Marion-Sterling, Michael R. White STEM and Patrick Henry.
The Cleveland Plan, which was written into state law, requires that CMSD raise achievement in its low-performing schools. The District was required to target at least 10 percent of its schools for "corrective action" every year for three years.
The District gives the schools up to three years to improve. Customized turnaround strategies will be finalized after Chief Executive Officer Eric Gordon and other District representatives conduct public meetings at the schools that start next week.
Principals, assistant principals, teachers and other employees who wanted to remain at the Phase 1 Investment Schools had to interview for their jobs and sign letters agreeing to new working conditions – for example, following a different schedule or visiting students' homes. It is likely that employees at Phase 2 schools will have to do the same.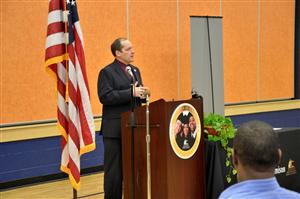 Phase 1 schools also were assigned outside agencies that coordinate
community "wraparound" services
that help students succeed. Gordon indicated Thursday that Phase 2 schools also will have outside partners.
Investment School plans will focus on "readiness" to learn, teach or lead and act, with the goal of improving discipline, staff and student attendance, family and community participation and test scores. Raising the scores will take hard work and persistence, Gordon said in a news conference at
Robert H. Jamison PreK-8 School
.
"You're not going to see worst to first in a year," the CEO said. "We have to see the beginning of results."
Jamison, located at East 146th Street and Harvard Avenue, was in the first group of Investment Schools. The others were Collinwood, John Adams and Lincoln-West high schools and nine other elementary schools: Luis Munoz Marin, Mound STEM, Kenneth W. Clement Boys' Leadership Academy, Case, Walton, Robinson G. Jones, Franklin D. Roosevelt, Anton Grdina and Alfred A. Benesch.
Gordon has been clear that the first group has a long way to go. But while
midyear reports
reveal mixed results, schools have made academic gains, improved teacher attendance and increased parent and community participation.
Jamison Principal Sharon Cooper proudly demonstrated the school's changed culture at the news conference, having students in the bleachers stand on command and recite a creed of "commitment."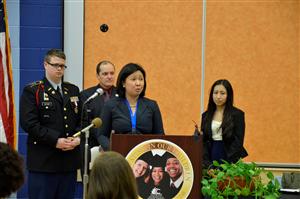 Andrew Wilson, senior class president and a Junior ROTC captain at Lincoln-West, gave one in a series of testimonials for the Phase 1 schools. He said he takes issue with those who maintain his school is failing.
"I am proud to say I'm a Lincoln-West senior," said Andrew, who has received four college acceptance letters, "and I'm proud to say that in front of you."
The staff's daily attendance at Kenneth W. Clement Boys' Leadership Academy is more than 2 points better than the 95 percent statewide average, and tests given by the District indicate that student proficiency on state exams could jump from 47 percent to as high as 77 percent.
Lawrence White Sr., who has four sons in the single-gender school, said Principal Jacky Brown has put an end to bullying. He said his sons' grades have climbed dramatically, and the boys show eagerness to get involved at the school.
Cynthia Dillon, a kindergarten teacher at Jamison, said the school has developed a family atmosphere and rallied behind a strategy "to be there for whatever our students need to make them successful."
The Rev. James Lukes, whose granddaughter attends kindergarten at Jamison, lauded the atmosphere there and said it has inspired him to volunteer at the school every day.
"Anything they ask me to do, I'll do it. I love this school," said Lukes, pastor of God's Will Church in Beachwood. "I believe in Jamison. Amen."