Investing in Cleveland's Children
Return to Headlines
Student provides perspective on homelessness (Video)
CMSD NEWS BUREAU
5/28/2015

To help a student cope with the overwhelming pain of homelessness, start small, a teenager who has been through the experience told a symposium crowd Thursday.

Katherine, 17, took part in a panel discussion at "Wishes and Dreams of Homeless Children and Youth,"sponsored by Project ACT, a CMSD office that serves students who are in shelters, doubled up with other families or living on their own. She said just having the ear of a Project ACT "life coach" at her school was a great relief.
"Any little thing helps," Katherine told her audience at the Masonic Auditorium for Cultural Arts. "Being able to go to school and know she was going to be there, she helped a lot."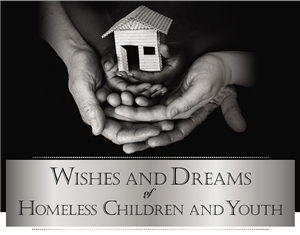 The daylong symposium, designed to call attention to the challenges confronting homeless students, drew about 200 participants, mostly Cleveland teachers. The CityMusic Cleveland Chamber Orchestra, joined by Grammy and Tony award winning singer Heather Headley, were to emphasize the conference theme with concerts at the auditorium Thursday and Friday night.
Project ACT (ACT stands for Action for Children and youth in Transition) opened more than 4,000 cases during the 2014-15 school year, though that number may include overlap from students who found themselves homeless more than once. On any given day, 1,700 to 2,000 CMSD students are without stable housing, said Marcia Zashin, Project ACT director.
Project ACT gives the students clothing and school supplies and distributes backpacks of food on Fridays to ensure they remain fed on weekends. The three life coaches, each assigned to about 10 high schools, may keep food or a change of clothes on hand for students in need.
Zashin, who also participated in the panel discussion, urged teachers to exercise patience with students who may be sleeping on the floor at night, dealing with crowded, noisy surroundings or trying to do homework without basic supplies or in homes that lack electricity. The conditions may prevent the children from attending school and leave them angry, aggressive or withdrawn.
"We have to be sensitive to the children that are in this very difficult situation," she said. "Imagine yourself if you had to move every night or every week, or always be told to be quiet, be quiet, be quiet."
The discussion followed a viewing of excerpts from
"The Homestretch,"
a documentary that tracks three Chicago teenagers as they struggle to stay in school. "Homestretch" director and videographer Anne de Mare echoed Zashin's plea for understanding, saying homeless youth "need second, third and fourth chances, just like any other young person."
Katherine technically had housing but said she drifted among fragile arrangements before settling with an aunt in March. An honor student, she is enrolled at a West Side high school, has passed all of her Ohio Graduation Tests and hopes to someday own a cosmetology business.
It was difficult enough to unburden her feelings to one person, let alone 200; Katherine said her stomach did flips as she traveled by car to the Masonic Auditorium.
The audience applauded her several times, including when she recommended correcting homeless students out of earshot of peers, so they won't be judged. She said afterward that she was glad people had come to realize the homeless are not just on the street, they can be in the classroom.
Katherine said she firmly believes in self-reliance, but her experience also taught her the value of having someone to confide in when the need arises.
"With everything that was going on in my life, I had built up walls," she said. "Talking to somebody helps a lot. It relieves that stress of 'No one is going to listen to me. I don't have a voice here.' "