Return to Headlines
From Cafeteria to Classroom: Make learning connections with CMSD School Nutrition in August
From Cafeteria to Classroom: Make learning connections with CMSD School Nutrition in August
8/4/2021
Written by: Alli Thirion, MPH, RD, LD
Welcome back to classrooms and cafeterias! This year, CMSD School Nutrition will be providing educators across the district with resources to connect what scholars are eating in the cafeteria to what they are learning in the classroom. Each month, we will highlight special meal days, holidays, and birthdays featured on our menus. We'll also include food facts to help educators engage with students about positive nutrition.
---
What's on the Menu?
New item alerts!
Nashville Hot Nuggets & Mac'n'Cheese on August 25th

French Bread Pizza on August 27th

Picnic Meal as a cold meal option every day
Writing tie-in (Grades K-5, Content Strand: Text Types and Purposes): Have students write opinion pieces about the new items they tried at lunch. Encourage students to use descriptive words (spicy, hot, flavorful, bland, etc.) to describe the items or compare and contrast these new items to other items they usually eat at lunch.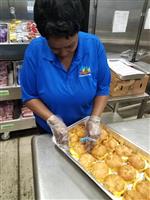 Teachers, submit your scholar's comments to allison.thirion@clevelandmetroschools.org for a chance for your class to win a visit from our district executive chef and dietitian and a smoothie party for your class! One class will be chosen for the month of August. Please include grade level and name of school when submitting comments.
---
Birthday Buzz: Dr. Antonia Novello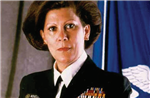 Dr. Antonia Novello was the first woman and first Hispanic person to serve as Surgeon General of the United States.
Biography: Dr. Antonia Novello was born in Puerto Rico. Antonia suffered from an illness when she was a kid. She decided to become a doctor so she could take care of other sick kids. Antonia went to medical school at the University of Puerto Rico. Then she moved to Michigan to get special training to take care of kids. She also did training to learn how to take care of kidneys and do organ transplants. Next, Dr. Novello went to work for the National Institute of Health. She wrote laws about organ transplants and kids' health. In 1990, she became Surgeon General. Dr. Novello focused on making kids, women, and minorities healthier. She spoke out against smoking, drinking alcohol, and drugs. Dr. Novello was Surgeon General until 1993.
Reading tie-in (Grades Pre-K-2): Read I Want to Be a Doctor by By Laura Driscoll, Illustrated by Catalina Echeverri. Reading level Grades Pre-K through 2nd. This book teaches kids about different types of doctors and features characters with diverse age, race, and body type.
Science tie-in (Grades 1-5, Content Strand: Nature of Science- Science is a Human Endeavor- Scientists come from diverse groups) Read Dr. Novello's biography as a class. Discuss with class other surgeons general who has also come from diverse backgrounds, including Dr. Joycelyn Elders, the 2nd woman, 2nd person of color, and first African American Surgeon General, Dr. David Satcher, the 1st African American male Surgeon General, and Kenneth P. Moritsugu, the 1st Asian American Surgeon General and the 1st Surgeon General to serve twice.
Gym tie-in (Grades K-5, S3.E6, S5.E1 SHAPE America grade-level outcomes): The Surgeon General of the United States is in charge of telling Americans how to be healthy. Discuss with students some health messages a Surgeon General may tell Americans and why they are important. Examples could include: eating fruits and vegetables every day, getting enough sleep, drinking water, and being active every day.
---
Food Facts!
Fact: Vegetables that are of different colors give your body different benefits. Every week, School Nutrition must serve at least 3 vegetables that are red or orange and 1 vegetable that is dark green.
Red and orange vegetables do a lot for your body, including improving eyesight, keeping your teeth and gums healthy, and keeping your body from getting sick. The main nutrients in these foods are Vitamin A, Vitamin C, and Potassium.
Dark green vegetables also have key nutrients like iron, Vitamin K, and folate. These nutrients keep your blood healthy and able to flow through your body. They also help with growth and development.
Math tie-in (Grades 1-4, Represent and Interpret Data): Identify and count the number of red and orange and dark green vegetables on the school lunch menu. Survey the class about their favorite red and orange and dark green vegetables served at school. Use the data collected to create different types of graphs (pie, bar, pictograph) to represent data. For older students (grade 4), what fraction of the class likes each type of vegetable?
---
About the Author:
Alli Thirion is the Cleveland Metropolitan School District Dietitian. Alli is one of the many people who create our school menus. She also works with students with special dietary needs to make sure they have safe school meals. Alli's favorite vegetable is broccoli, and her favorite fruit is plums.