Return to Headlines
CMSD, other providers add 335 pre-K seats
CMSD NEWS BUREAU
8/22/2014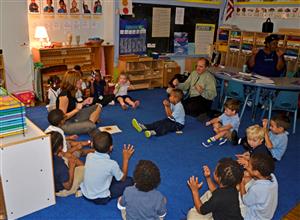 CMSD and other providers have added 335 preschool seats this year as part of an effort to make high-quality, early-childhood education available to as many children in the city as possible.
The District contributed 260 of those seats, expanding its total spaces by 25 percent to 1,020. All are filled, and for each seat, a child is waiting.
The news was part of a progress report delivered today by
PRE4CLE
, a partnership between CMSD and other high-quality providers. The update came on the first day of prekindergarten classes in the District.
Expanding access to high-quality preschool is part of
The Cleveland Plan
, a state-approved blueprint for reform. CMSD Chief Executive Officer Eric Gordon said pre-K feeds a culture of higher education by ensuring that students are prepared for kindergarten and beyond.
"It exposes children to high-quality learning and innovative and imaginative play," the CEO said at Tremont Montessori School, the largest of the District's 47 prekindergarten sites. "It does not eliminate the fun."
Launched in March, PRE4CLE is focusing first on 4-year-olds and will ultimately take in 3-year-olds as well. CMSD has committed $2.5 million to the network's two-year $35 million goal, and Cuyahoga County added $1 million. (
Read the plan
.)
According to Case Western Reserve University research presented in March, only 2,857 Cleveland children ages 3 to 5, fewer than one in five, were enrolled in high-quality preschool last year. PRE4CLE is seeking to add nearly 1,200 seats this year.
The CWRU research also showed that only 22 percent of Cleveland pre-K providers were rated as high quality and that most were unrated. PRE4CLE works with providers to help them achieve at least three stars out of a maximum five on a state rating system.
The network also contracts with providers and markets high-quality prekindergarten to families. A mailing of 15,000 postcards went to households during the summer and another 15,000 are to go out soon.
Plans call for eventually helping with tuition and transportation. CMSD's prekindergarten is free, even though the District receives no state funding for that age group.
A group called the Cleveland Early Childhood Compact picked Starting Point, a referral agency for early education and child care in Northeast Ohio, and the Educational Service Center of Cuyahoga County to manage PRE4CLE.
Katie Kelly began work as PRE4CLE's first director this month. The lifelong Cleveland resident formerly was executive director of groundWork, a statewide group that advocates for making top-grade early-childhood education a priority in Ohio.
Kelly said years of research shows that the period from birth to age 5 is a "unique window" for brain development that affects intellectual capacity and skills like listening and following directions.
"The sort of hardwiring of the brain is what happens in those first five years," she said. "The investment we make in children at that time has such a tremendous impact not only on their school careers but their whole lives."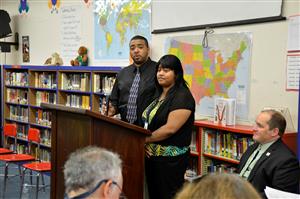 Pierre Sain and his wife, Javin Polk, attended the Tremont presentation and spoke of the difference that the school's prekindergarten program has made for their children: Kaylissa, now in the third grade; Pierre, who is in first grade, and 4-year-old Javierre.
Polk said Javierre was unfocused and unenthused about learning until he attended preschool as a 3-year-old. During the summer, she said, he grew restless and filled time by organizing numbered flashcards in order from 1 to 20.
"If you have a 3-year-old, I would start them early," Polk said. "It's very beneficial."
To find a high-quality prekindergarten provider in Cleveland, call Starting Point at 216-575-0061. For more information on PRE4CLE, click
here
.