Weekly Newsletter: 9.30.19 - 10.4.19
Weekly Newsletter: September 30 - October 4, 2019
As we approach the close of the first academic quarter, it is nice to see so many of our students not only supporting each other (and especially our 9th graders) with the academic adjustment to high school, but also the social adjustment. This week, we were excited to see students step up to lead in many ways!
Featured Items
#NoMoreDrama Campaign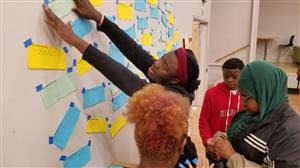 No transition to a new school is easy and that's particularly true for new high school students. And while the academic transition to CIHS' IB Program is significant enough, new ninth grade students also face typical social transitions.
This past week, our 9th grade students stepped up to support each other with these social transitions with personal commitments to support each other--through the hashtag #NoMoreDrama. We encourage ninth grade parents to ask your children about the commitments they are making and we also welcome parents to support our students at home by being cognizant about how our young people use social media. If you want to support in other ways, please contact our MYP Coordinator, Maria Vazquez-Listenbee.
CIS Discussion Group on Equity and Inclusion
The CIS Equity & Inclusion Committee invites you to a discussion on equity and inclusion on Wednesday, October 2nd from 6 to 8 PM at the Lower School Cafe (2160 Payne Ave). Please register here.
Recent News & Highlights
School Beautifcation Under Way
It's been about a year and a half in the newly renovated Cole Center and we continue to make it our own! This summer we made many moves and changes to make the space better fit our needs, and we are excited now to be personalizing the school and making it feel more like Campus International with some customized artwork!
Check out the newest (first) mural from Mr. Tugeau and his crew here.
The City is Our Campus
At Campus, our students are always learning everywhere, and we are excited to have our kids engaging in different learning experiences throughout the city.
Last Friday (Sept. 20), CIHS hosted visitors from Jerusalem who were interested in learning more about inquiry-based learning.
On Thursday and Friday, DP students in the Environmental Systems & Societies class headed to Doan Brook to sample streamwater.
On Thursday, students spent the day with one of our major arts partners, Twelve Literary Arts. On Friday, students participated in the Project 400 Conference at Cleveland State University. The conference featured a keynote by renowned scholar Henry Louis Gates. See more about both of these events on our facebook page.
Upcoming Dates & Events
October 5 (Saturday) - SAT (at other schools)
October 7 (830 AM & 330 PM) - Coffee Mondays - Understanding Grades in the IB
[NEW DATE] October 11 (230 PM) - Latinx Heritage Month Celebration (@ Berkman Hall Auditorium - CSU)
October 11 - END OF 1st MARKING PERIOD
October 16 - PSAT 8/9 and PSAT (in school)
October 16 - Service Day (after testing)
October 24 (1230 - 7 PM) - Parent/Teacher Conferences (NO SCHOOL)