Weekly Newsletter: 10.7.19 - 10.11.19
Weekly Newsletter: October 7-11, 2019
The Fall is officially here and this year marks the last week of the first quarter! We have exciting school-wide events upcoming and we look forward to our parents joining us!
Featured Items
Fall Art Show @ Apple Tree Books in Cleveland Heights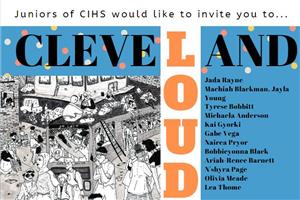 Our DP Visual Arts students (11th grade) are hosting their first Fall Art Show at Appletree Books in Cleveland Heights throughout the month of October, with a special reception on Thursday, October 10th from 7 to 8 PM.
Find more information from Mr. Tugeau directly or on the calendar event on our website.
PSAT & PSAT 8/9 (Oct. 16)
On the morning of Wednesday, October 16th, 9th-11th grade students will take the PSAT (10th/11th) and PSAT 8/9 (9th). These important exams align to the SAT, the important college entrance exam that students will take as 11th graders.
It is crucial for students to do their best on these exams, as they are an important part of preparing the university application and can open doors for many scholarships in addition to admission into more competitive colleges.
We encourage students to practice for the exam using the Official SAT Prep on Khan Academy. Click here for instructions on how to log in and make sure that we are tracking your practice hours (so that you can be eligible for raffle prizes).
Parents are working to put together healthy snacks for the break during testing--contact our IB Coordinator (DP) Ms. Sarah Schneider if you would like to help.
Welcome to Mr. Kenneth Clemons (New CIHS Teacher)
We are honored to welcome Mr. Kenneth Clemons as our high school's newest staff member! Mr. Clemons joins us after over a decade as a truly indispensible member of the Glenville High School team. We are truly excited to have his deep experience and skills as we bolster our Special Education team, with our expanded team now able to cover science and social studies classes at every level.
Learn more about Mr. Clemons on our "Our Staff" website or reach out to him directly to welcome him to our community!
Latinx Heritage Month Celebration (Fri 10/11)
This Friday we have our first celebration event in our monthly Cultural Heritage Month series with our Latinx Heritage Month Celebration.
This year, we will hold all Cultural Heritage Month Celebrations, as well as all other all-school assemblies, at the Berkman Hall Auditorium (formerly "Main Classroom") at CSU (1899 E 22nd St). All assemblies start at 2:30 PM. Families are always welcome!
Please contact IB Coordinator (DP) Sarah Schneider if you would like to participate in planning for any of our upcoming Cultural Heritage Month events:
October (Service Month) - Oct. 16
November (Native American Heritage Month) - Nov. 15
December (European Heritage Month) - Dec. 20
January (African & Middle Eastern Heritage Month) - Jan. 31
February (Black History Month) - Feb. 28
March (Women's History Month) - March 10
April (Asian & Pacific Islander Heritage Month) - Apr. 17
May (LGBTQ+ Pride Month) - May 15
Recent News & Highlights
Juniors take the SAT!
Over 60 CIHS 11th graders took the SAT on Saturday--this is almost 75% of the class! Students have been preparing using the Official SAT Practice on Khan Academy, which has been shown to increase student scores by an average of 115 points for students who spend 20 or more hours practicing!
Juniors will take the SAT again on March 11th as part of the district-wide testing, with another opportunity to take the exam for free (with their second fee waiver) in June 2020.
The City is Our Campus - Students Learning through Trips
On Friday, students from our high school Chinese classes attended the Confucius Institute (of CSU) Teacher Appreciation Day celebration with cultural activities, following up with a trip through our neighborhood, Cleveland's AsiaTown!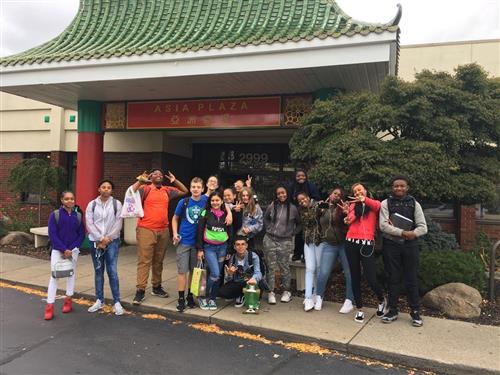 Students in Ms. Higginbottom's 9th Grade IB Core class were also treated to a customized trolley tour of the city featuring organizations and locations pertaining to their chosen topics for their YPAR Community Projects! After these projects are fully fleshed out, including authentic research and learning in the community, students will present their research at a Poster Session at our annual Campus Conference: a Student Research Symposium, on March 20th, 2020.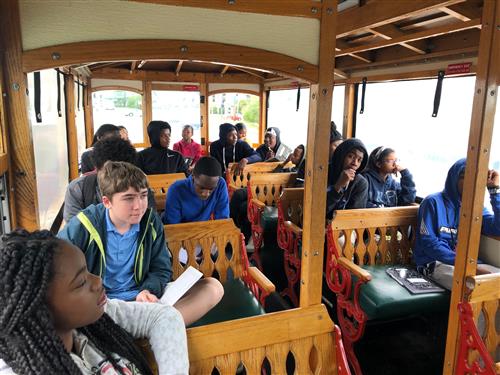 Music Therapy Program
One of our exciting partnerships with Cleveland State sees a handful of CIHS students working directly with students from the CSU Music Therapy program on a weekly basis. If you are interested in your child partciipating in this program or have other questions about supports for students' mental health, please contact our guidance counselor, Dr. Mia Flowers.
Upcoming Dates & Events
October 7 (830 AM & 330 PM) - Coffee Mondays - Understanding Grades in the IB
October 10 (7-8 PM) - Fall Art Show Reception @ Appletree Books in Clev. Hts.
[NEW DATE] October 11 (230 PM) - Latinx Heritage Month Celebration (@ Berkman Hall Auditorium - CSU)
October 11 - END OF 1st MARKING PERIOD
October 16 - PSAT 8/9 and PSAT (in school)
October 16 - Service Day (after testing)
October 17 (6 PM) - Fall Info Session for Prospective Families & Students
October 21 (830 AM & 330 PM) - Coffee Mondays - Strategies for Parent/Teacher Conferences
October 24 (Times TBD) - Parent/Teacher Conferences (early release for students)
October 25 (230 PM) - Q1 Awards Assembly (@ Berkman Hall Auditorium)
October 25 (7 PM) - Fall Dance
October 28 to November 1 - 8th Grade Preview Visits to CIHS
October 29 (530 PM) - Fall Sports Dessert & Awards Ceremony
October 30 (6-8 PM) - CIHS Hosts CMSD Long-Term Planning Meeting w/ CEO Gordon
November 2 (10 AM) - Fall Info Session #2 for Prospective Families & Students