Weekly Newsletter: 10.21.19 - 10.25.19
Weekly Newsletter: October 21-25, 2019
This week is Parent/Teacher Conference Week! Please make sure to join us on Thursday evening to pick up your child's 1st Quarter Report Card and meet with her or his teachers!
Featured Items
Parent/Teacher Conferences (Thurs, October 24)
Please join us for Parent/Teacher Conferences on Thursday, October 24th from 3:00 PM – 7:30 PM (No Appointments Necessary)
Certain teachers will only be available from 12:15 PM to 4:45 PM instead:
(Ms. Williams, Ms. Soto, Mr. Jimenez, Mr. Perciak, & Dr. Flowers)
Parent/Teacher Conferences are an Open Format and parents are encouraged to speak with as many teachers as they would like for brief 5-15 minute conferences.
Report Cards will be emailed in advance (by Wednesday evening) via the online gradebook Managebac, so family members may want to consult the report card before determining which teachers they would like to prioritize a conference with.
Join us for Coffee Monday this week at 8:30 or 3:45 to share strategies with other parents for how to make the most of Parent/Teacher Conferences.
Quarter 1 Awards Assembly (Thurs, October 24)
Each quarter we honor our students for their academic and personal achievements, including:
High Honors
Honors
Significant Growth
Nominations for "Graduation Awards" in each subject area and four "character-based" awards.
Family members are encouraged to join us for this exciting quarterly occasion at the Berkman Hall Auditorium @ CSU (the old "Main Classroom" building at 1899 E. 22nd St).
The Q1 Awards Assembly is at 9:30 AM on Thursday, October 24th.
"Fall Ball" Dance (Fri, October 25)
Students are fundraising for our Homecoming (Dec 14) with a semi-formal "Fall Ball" dance this Friday, October 25 from 6 PM - 10 PM. Students are permitted outside guests for this dance but must fill out a permission form. Tickets are $10 each and may be purchased from Ms. Schneider during lunch and after school each day this week or at Parent/Teacher Conferences. We are grateful to any parents who are interested in chaperoning: please reach out directly to Ms. Schneider.
Please note the following:
Students must arrive by 7:30 PM to be admitted to the dance.
Students may not leave early except with prior written permission from a parent.
---
Recent News & Highlights
CIHS Service Day (Weds, October 16)
Our high school students engaged in a variety of service projects after the PSAT last Wednesday, with almost 100 students going over to our Lower School to tutor and mentor our PYP and middle school students.
See more here (including pictures).
October 4 SAT Results Are In (Fri, October 18)
Students who took the October 4th SAT can log into their CollegeBoard.Org accounts to view their SAT results as of Friday, October 18th. Please see Dr. Flowers or Ms. Schneider for support or with questions.
Keep on studying using Khan Academy to prepare for the March 11th SAT and see your score improve!
PSAT & PSAT 8/9 Exams (Weds, October 16)
Our high school students took the PSAT 8/9 (9th grade) and the PSAT (10th/11th grades) last Wednesday. Results for this exam, which are aligned with the SAT, are available this December, and can be used to prepare for the SAT in March (11th grade).
Gatsby Party in L&L 1 (Fri, October 18)
Ms. Lamadanie and her 9th grade classes had a roaring good time on Friday with their Gatsby-themed classroom parties in honor of their most recent novel study, The Great Gatsby! Thanks to Ms. Lamadanie for bringing literature alive!
NWEA Award for Isabella Craun '22
All of our 9th and 10th graders, along with their classmates across CMSD, take the NWEA MAP Assessment in Reading and Math twice a year, measuring their academic growth and readiness for upcoming skills. Congratulations to Isabella Craun '22 for earning the highest score in CMSD's "High School Network 2" (which includes all of CMSD's "selective schools") in both Reading and Math! Isabella earned the highest score in Reading twice last year in the former "Portfolio network". (Isabella is pictured here with HS Network 2 "Action Team Coach", Mr. Brent Case).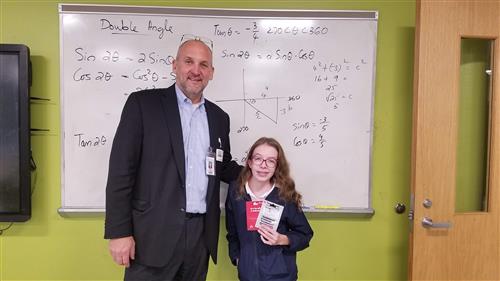 ---
Upcoming Events & Dates
October 21 (830 AM & 330 PM) - Coffee Mondays - Strategies for Parent/Teacher Conferences
October 24 (930 AM) - Q1 Awards Assembly (@ Berkman Hall Auditorium)
October 24 (3 PM - 730 PM) - Parent/Teacher Conferences (early release for students @ 11:35 AM)
October 25 (6 PM - 10 PM) - "Fall Ball" Dance
October 28 to November 1 - 8th Grade Preview Visits to CIHS
October 29 (530 PM) - Fall Sports Dessert & Awards Ceremony
October 30 (6-8 PM) - CIHS Hosts CMSD Long-Term Planning Meeting w/ CEO Gordon
November 2 (10 AM) - Fall Info Session #2 for Prospective Families & Students