[ALERT]
Sign In - update
Use the new SSO button at the bottom of the Sign In page. That will take you to the SSO page that you can use your FULL CMSD email address and current email/network password.
Once signed in the system will put you back to the district homepage, just navigate back to the Calendar/event and the registration button will appear on the right of the event.
You will receive a notification that the delivery of the confirmation email has failed. You can verify if you are registered by clicking on the small calendar icon in the upper right-hand corner and selecting the correct date range.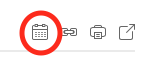 Thank you for your patience.
- Michael Goodill