Attention Scholars in Grades 5-8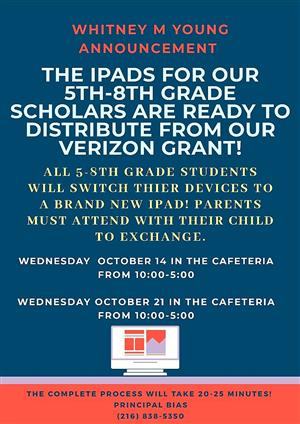 ATTENTION SCHOLARS IN GRADES 5-8!!
Whitney M Young received a grant from Verizon that will give each scholar in grades 5-8 only, a brand new ipad. Each scholar in these grades will have an opportunity to switch out their device on Wednesday October 14 from 10:00-5:00 and Wednesday October 21st from 10:00- 5:00. This ipad distribution will take place in the cafeteria. Students must come in with their parent in order to complete the full registration of the device. Bring your other device to switch out. The complete process will take up to 25 minutes. Please take advantage of this opportunity. The ipad will come fully loaded with educational apps that are focused on our middle school and 5th grade scholars. Temperatures will be checked at the front entrance and masks are required. For further information, please reach out to your teacher.