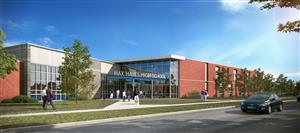 IMPORTANT
UPDATED
INFORMATION
First Day of School
Date: Monday, August 15, 2016
Time: 8:00 a.m. - 2:30p.m.
( Breakfast is Served at 7:30 a.m.)
Dress Code in FULL EFFECT!
Cant wait to see our Lakers!
Imagine attending a high school where you can earn industry credentials in multiple high-tech industries. Through partnerships established and maintained,

Max S. Haye

s

extends learning opportunities outside the classroom as early as freshman year.
Max S. Hayes High School is a part of the Academies of Cleveland that offers:
Applied learning opportunities
Partnerships with business to solve real- world problems for authentic learning
Focus on the 21st Century skills needed to succeed in college and life
Culture of teamwork, critical thinking, communication, collaboration, and creativity
Rigorous interdisciplinary curriculum
Freshmen focus on the transition to high school and the various pathways that are offered. students will take the 101 course as an introduction to the nine career pathways offered at Max S. Hayes.
The Cleveland Metropolitan School District is working with WIRE-Net, a nonprofit Cleveland group dedicated to economic development in manufacturing, to make Max S. Hayes a 21st Century career and technical school.