Return to Headlines
Life changer Ted Ginn Sr. wins LifeChanger Award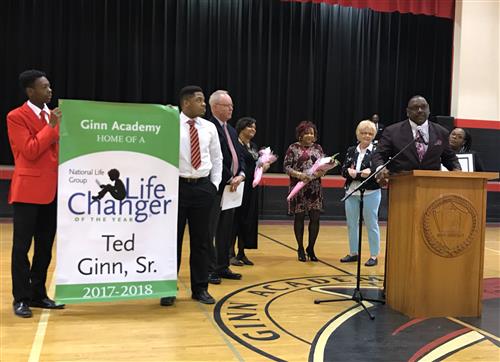 Ginn Academy students helped present Ted Ginn Sr. with a LifeChanger of the Year Award during the school's morning meeting.
CMSD NEWS BUREAU
4/24/2018
Ted Ginn Sr. is known in Cleveland and beyond for coaching the Glenville High School football team that has produced an impressive number of NFL players, but one Cleveland mother credits him for something else: changing the course of her troubled teenage son's life.
Last week, Ginn was presented with a LifeChanger of the Year Award to recognize the impact he has made on not only Kathie Denise Williams' son, but on the hundreds of young men who have passed through Ginn Academy. Williams said she nominated Ginn because she knows her son isn't the only one who's benefited from Ginn's mentorship.
"I visited Ginn Academy a few weeks ago, and to see those same halls where my son once walked now filled to the brim with so many young men, poised, polite and engaged in their desire to learn, tears welled up in my eyes," she said. "It's all thanks to the inspiration of the man whose name the academy bears."
The National Life Group and the National Life Group Foundation sponsor the award to recognize K-12 educators and school employees across the country who are making a difference in the lives of students by exemplifying excellence, positive influence and leadership. Ginn was one of 16 winners chosen from over 800 nominees.
Representatives from the National Life Group presented the award during the school's daily morning meeting in front of the entire student body. The award comes with a cash prize of $1,500 for Ginn and an additional $1,500 for the school.
Ginn founded Ginn Academy in 2007 as the first all-boys public school in the state. Williams' son, Christopher Michael Jordan, was a member of its inaugural graduating class. But his path to graduation wasn't easy.
Jordan began ninth grade at Glenville High School but began to feel the pull of neighborhood gangs and was struggling academically, Williams said. Williams heard about Ginn's new school and reached out to him to see if he could help her son get on the right track.
"Coach told me to send him to his new school and that he would work with him," Williams said. "To say that I was skeptical is an understatement. Trust wasn't easy for me, and as a single mom, I was stressed beyond measure."
But Ginn Academy proved to be the best thing that ever happened to the family. With Ginn as Jordan's mentor and the school's college-focused mission, Jordan thrived. His GPA rose from 1.75 in ninth grade to 3.75 at graduation, earning him a full scholarship to Notre Dame College.
He went on to join the Army and is now a sergeant in the Special Operations unit.
None of this would have been possible, Williams said, without Ginn's intervention.
"I knew that the gift Coach Ginn gave Christopher a few years ago is the same gift he is inspiring in every one of those boys who proudly wear their coats and ties every day," Williams said, referring to the distinctive dress code to which all Ginn students adhere.
Ginn said that he is grateful to be recognized for the work he has put into developing Ginn Academy but that he is focused on reaching even more students.
"It's good to be rewarded, but the most important thing is sustaining the work and continuing to make a difference in these children's lives," he said "Awards are fine, but there's still work to do."


Have a story idea for the CMSD News Bureau? Email it to newstips@clevelandmetroschools.org.